ROCKY MOUNT, NORTH CAROLINA – North Carolina Wesleyan University is among several colleges and universities in North Carolina that are part of the GlaxoSmithKline Foundation Women in Science Scholars Program. Through this program, academically outstanding females majoring in the natural or physical sciences are able to participate in a mentoring/scholarship program through GlaxoSmithKline (GSK). The opportunity is open to two females at NCWU at any given time and this year is being awarded to Andrea Rizzo and Maria "Claudina" Fernandez Laurita.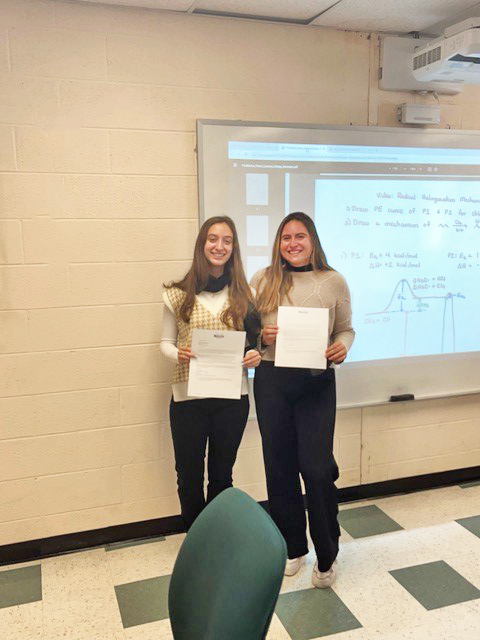 "Wesleyan is very proud of the work that Andrea and Claudina have done to date and the work they will continue to do in this program," stated Dr. Joe Lane, Provost and Senior Vice President for Academic Affairs. "Wesleyan offers our students valuable opportunities to engage in undergraduate research, meaningful internships and robust networking, and this program combines all three in one unique appointment. We know they will make the very best of this opportunity."
Both women are from Argentina and are actively involved in the life of the University. Andrea is a sophomore majoring in Biology with a minor in Environmental Science and an overall GPA of 3.8. She wants to attend graduate school to study marine mammals and spent last summer seeking out internships to gain research experience. Claudina is also a sophomore and has an overall GPA of 3.8. She is majoring in Biomedical Science (Pre-Medicine concentration), and has been working with local doctors to gain patient contact hours and observe surgeries.
"Both of these young women are an excellent fit for the program. They both have a clear sense of their goals for the future and are excited about building a relationship with a female science mentor at GlaxoSmithKline," stated Dr. Heather Louch, GSK Program Coordinator and Professor of Biology.
There were four nominees for this year's program. After Dr. Louch solicited nominations and requested application materials from these nominees, several NCWU physical and natural sciences faculty selected Andrea and Claudina based on a point system. These two scholars will spend the next three years establishing a mentoring relationship with a GSK female scientist.

About the GlaxoSmithKline Foundation Women in Science Scholars Program
The North Carolina GlaxoSmithKline Foundation Women in Science Scholars Program offers a unique educational opportunity to young women by coupling college scholarships with a mentoring program. The Foundation has established endowed scholarships at 30 colleges and universities across North Carolina. Two outstanding women undergraduate science students, usually in their sophomore year, are selected annually by each school as North Carolina GlaxoSmithKline Foundation Women in Science Scholars. Selected scholars demonstrate a strong interest in science and maintain a grade point average of 3.0 or better (on a 4.0 scale). Each student is paired with a GlaxoSmithKline mentor who provides valuable leadership to students by sharing her experiences and insights, and providing science career guidance.
About North Carolina Wesleyan University North Carolina Wesleyan University (NCWU) is a small, private Methodist-affiliated institution with a liberal arts-based core curriculum that prepares students for professional advancement, life-long learning and responsible participation in their communities. NCWU offers liberal arts, professional and graduate degree programs for traditional, transfer and working-adult students. The skills cultivated by faculty and built into the curriculum include critical thinking and reflection, communication, collaboration, and information technology. North Carolina Wesleyan University delivers education that is personal, practical and purpose-driven. Personal…through mentoring and the connections that are provided. Practical…by helping students develop lifelong skills. Purpose-driven…by helping them fulfill their purpose in life. With students from all over the United States and more than 40 different countries, the University has immense cultural diversity. To learn more, visit ncwu.edu and follow on Facebook, Twitter, LinkedIn, TikTok and Instagram.