ROCKY MOUNT, NORTH CAROLINA – North Carolina Wesleyan University has partnered with Joey Griffin Kia of Rocky Mount to give a current NCWU student the deal of a lifetime at this year's Homecoming football game on November 5. One lucky and deserving Bishop will be the owner of a brand new 2022 Kia Rio courtesy of Joey Griffin Kia.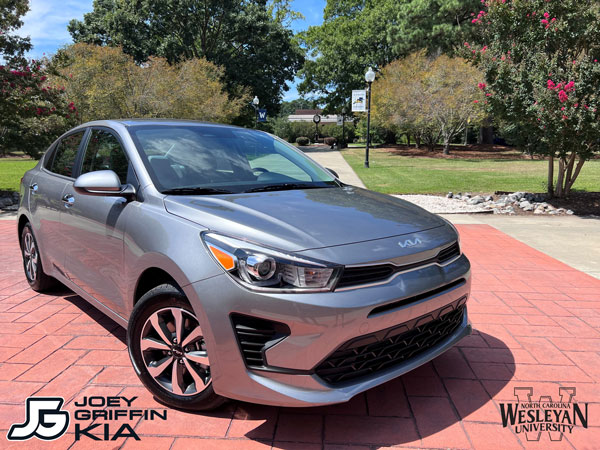 NCWU students, faculty and staff have from September 1 until November 2 to nominate a current, full-time student they believe deserves and needs a new car. Students are not allowed to self-nominate, but a student can be nominated more than once. Students will be notified of their nomination and confirm that they would like to be in the drawing.
"The Joey Griffin Deal of a Lifetime is more than just giving away a car, it's giving a student opportunities— an opportunity to get an off-campus job, an internship that could jumpstart their career, and the freedom to enjoy and explore Rocky Mount, along with surrounding areas," stated Elliott Smith, Director of Student Activities.
NC Wesleyan is unique in that it allows freshmen to have vehicles on campus their first year; however, nearly fifty percent of students do not, whether it's due to financial reasons, distance from home, or other factors. The Joey Griffin Deal of a Lifetime will enhance an NCWU student's life by providing them with safe, reliable transportation.
"The community has supported us greatly, so this is a chance to give back and maybe change someone's life," stated Griffin. "Through this, maybe somebody will become aware of our dealership. This gives our salespeople a chance to sell them a car or a technician the opportunity to service their car, hence helping them support their families."
The Joey Griffin Deal of a Lifetime winner will be announced on Friday, November 4 at NCWU's annual Homecoming Bonfire. They will receive the keys to their new Kia the following day, November 5, during halftime of this year's Homecoming football game. The public is invited to attend and join in this exciting occasion to cheer on the Battling Bishops as they take on Huntingdon College. Kickoff is at noon at NCWU's new Vernon T. Bradley, Jr. Stadium and gates open two hours prior. For more information, visit ncwu.edu/homecoming.
About North Carolina Wesleyan University
North Carolina Wesleyan University (NCWU) is a small, private Methodist-affiliated institution with a liberal arts-based core curriculum that prepares students for professional advancement, life-long learning and responsible participation in their communities. NCWU offers liberal arts, professional and graduate degree programs for traditional, transfer and working-adult students. The skills cultivated by faculty and built into the curriculum include critical thinking and reflection, communication, collaboration, and information technology. North Carolina Wesleyan University delivers education that is personal, practical and purpose-driven. Personal…through mentoring and the connections that are provided. Practical…by helping students develop lifelong skills. Purpose-driven…by helping them fulfill their purpose in life. With students from all over the United States and more than 40 different countries, the University has immense cultural diversity. To learn more, visit ncwu.edu and follow on Facebook, Twitter, LinkedIn, TikTok and Instagram.