ROCKY MOUNT, NORTH CAROLINA – Black Diamond, the newest exhibit coming to Gravely Gallery at The Dunn Center, will inspire you to dig deeper into the old American past time—baseball. This solo exhibition, featuring over 20 works by artist Darryl Matthews, will run from September 22 – November 10, 2022. An opening reception will be held on Thursday, September 22 from 5:00-7:00 p.m.
Matthews is the son of late Negro Leagues' player, Francis Oliver Matthews. The exhibition provides an intimate view of the Negro Leagues through extraordinary paintings of players such as Buck Leonard, Josh Gibson, Satchel Paige, James Thomas "Cool Papa" Bell, Jackie Robinson, Francis Oliver Matthews, and female players Toni Stone, Mamie "Peanut" Johnson and Connie Morgan.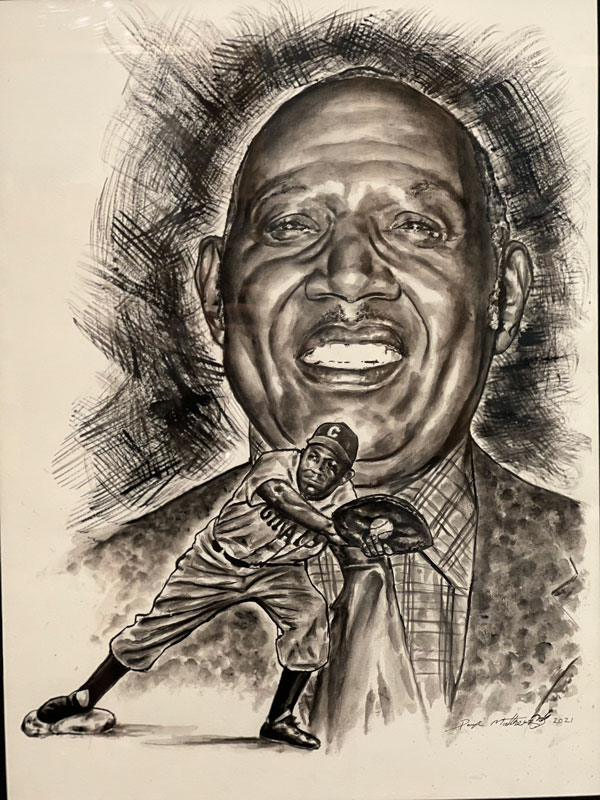 The Negro League underscored the racial, socioeconomic, recreational and political realities of the 19th and 20th centuries. In the African-American community, Negro League Baseball represented achievement, success, ingenuity, self-empowerment and perseverance. The leagues raised black consciousness and they were a catalyst for change. The stories of the games and the African-American and Latino players were chronicled in historically black publications, such as the Chicago Defender, Pittsburgh Courier and New York Amsterdam News. The teams barnstormed their way through U.S. cities and towns, the Caribbean and Canada, enthralling fans. Some athletes traveled overseas to play in Japan, as well. Wherever the players took to the field, they were building a legacy and creating history.
In December 2020, Major League Baseball (MLB) officially recognized the Negro League as Major Leaguers. All 3,400 players from 1920 to 1948 were elevated to MLB status—100 years after the start of the Negro League. The pronouncement is significant for a group of legends who broke new ground and paved the way for future generations.
Darryl Matthews: Black Diamond celebrates these legends and all that they accomplished and symbolized. Greg Purcell, Art Curator for The Dunn Center, states "As not only a lover of art, but also history, this exhibit will show what extraordinary people these ball players were."
This exhibit is presented in part by both the Buck Leonard Association for Sports and Human Enrichment and the Drinking Gourd Gallery, as part of a series of public events celebrating the 50-year anniversary of Buck's historic induction to the National Baseball Hall of Fame.

About the Buck Leonard Association for Sports & Human Enrichment
Established by family in 1999 to help organize and manage local youth baseball, the Buck Leonard Association for Sports and Human Enrichment (BLASHE) has evolved into an organization that engages and empowers children and families of Rocky Mount, NC with programming and resources that promote digital literacy, education, health, and community. For more information, please visit us at BuckLeonard.org.
About The Dunn Center
The Dunn Center is a premier venue for concerts, shows, exhibits and conferences in eastern NC. Located on the campus of NC Wesleyan University, in the heart of Rocky Mount, The Dunn Center is proud to host the Wesleyan Season Series of cultural events and concerts. In addition to these world-class performances, The Dunn Center features a variety of campus and community events, including Wesleyan Players productions, concerts of the Tar River Swing Band and Orchestra and other various performances by nationally known artists. The Mims and Gravely Galleries, located within The Dunn Center, hosts a variety of exhibits, including paintings, drawings, and sculptures. The galleries are open weekdays from 9:00 a.m. – 5:00 p.m., as well as during performances. To learn more, visit dunncenter.com and follow on Facebook.