North Carolina Wesleyan University President, Dr. Evan D. Duff, and UNC Health Nash President/CEO, Dr. L. Lee Isley, have signed a partnership agreement to expand educational opportunities to employees of Nash. The partnership allows employees to develop practical skills that they can apply to their careers through certificate, undergraduate RN to BSN and graduate degree programs at NCWU.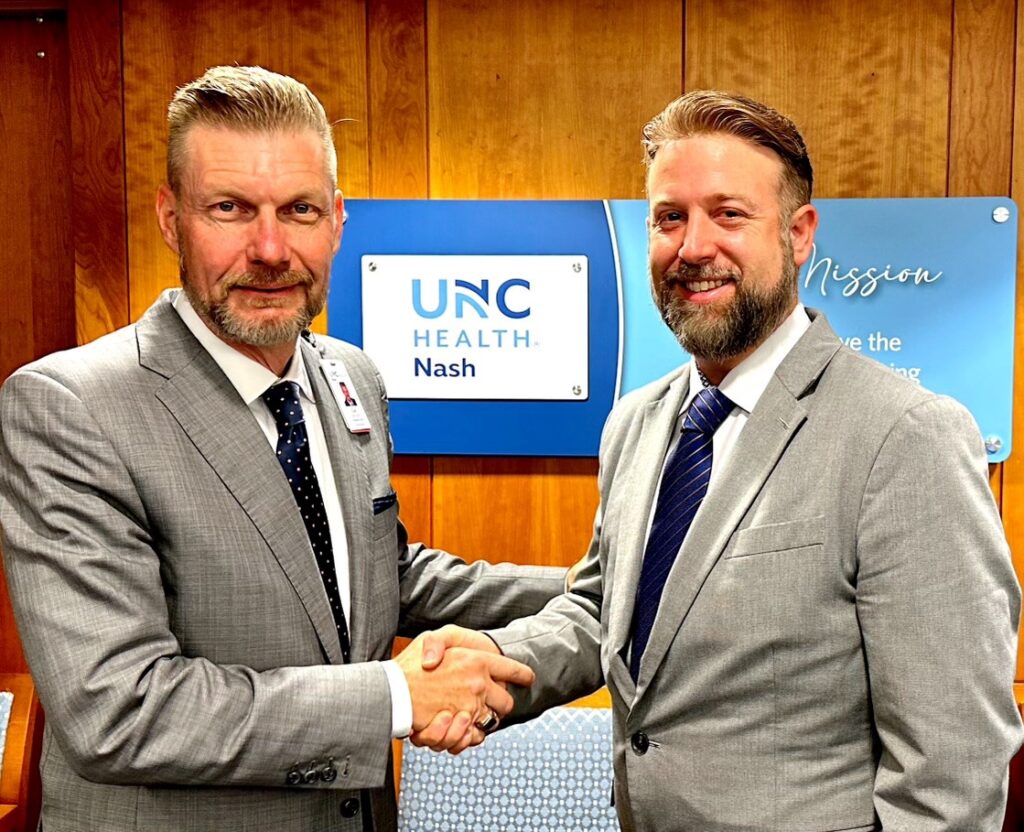 "At Wesleyan, we have programs that support almost every career path at UNC Health Nash. Those programs include certificates in Executive Leadership and Human Resources Management, as well as our Bachelor's degree in Healthcare Administration, RN to BSN program, and our Masters in Public Health and Masters in Strategic Leadership," stated Dr. Evan D. Duff. "Since the launch of our RN to BSN program in 2019, the University has been fortunate to have the support of Dr. Isley and UNC Health Nash. This new agreement is one way for us to give back to their employees.
The partnership includes special financial awards for those who enroll in one of Wesleyan's certificate, baccalaureate or graduate degree programs. Nash employees who are seeking to grow as a leader in their respective divisions can do so with NCWU's flexible programs for working adults. All of these programs are 100% online with one-on-one support from faculty who have industry experience. NC Wesleyan's degree programs improve competency in areas specific to the roles of employees at UNC Health Nash. This partnership will also provide Registered Nurses with one of the most affordable BSN options in the state of North Carolina.
Mutually benefiting all parties, this partnership allows UNC Health Nash employees to receive special rates to attend NCWU. In return, the hospital will market this opportunity and NC Wesleyan's programs to all of their employees. In addition, Nash will afford NC Wesleyan University an opportunity to advise their employees through email, on-site opportunities, flyers, brochures and the posting of other promotional materials. Nash employees must remain employed with the hospital in order for them to remain eligible for these awards.