ROCKY MOUNT, NORTH CAROLINA – After originally being delayed due to Hurricane Ian, North Carolina Wesleyan University was excited to able to celebrate Homecoming this past Saturday, November 5, with kickoff at noon against Huntingdon College. This year, for the first time ever, Wesleyan's Homecoming game was held on its new turf field at the Vernon T. Bradley, Jr. Stadium.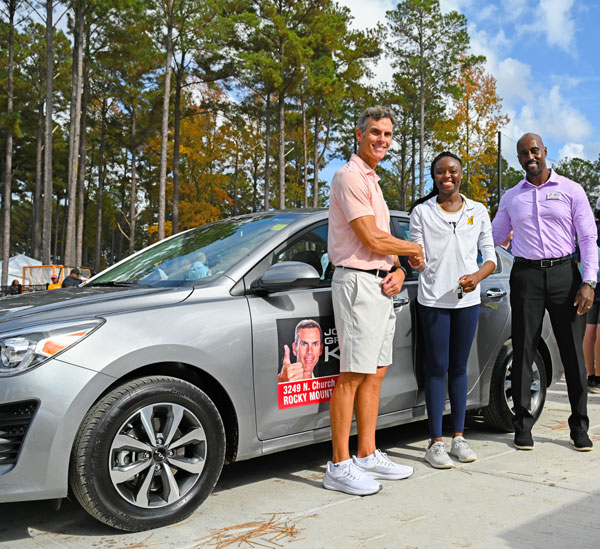 Tailgating began at 9:00 a.m. followed by an alumni football game on the Vernon T. Bradley, Jr. Lacrosse Field at 9:30 a.m. Returning for its fourth year, NCWU's annual chili cook-off started at 11:00 a.m. This year's halftime included a first-of-its-kind giveaway. On September 1, the University announced a partnership with Joey Griffin Kia to give a current NCWU student the deal of a lifetime… a brand-new car!
That lucky and deserving Bishop is Cierra Gamble, an NCWU senior, who received the keys to her new 2022 Kia Rio, courtesy of Joey Griffin Kia, on Saturday during the halftime festivities. From September 1 until November 2, NCWU students, faculty and staff nominated current, full-time students they believe deserved and needed a new car. Students were not allowed to self-nominate, but each student could be nominated more than once.
"Winning the car, to me, is a dream come true! It means that I am one step closer to reaching my goals than I was before," stated Gamble. "No longer do I have to turn down opportunities due to lack of transportation. The Lord really provided. Thank you, Mr. Joey Griffin, for this opportunity!"
After the excitement of the game, students and alumni headed into the heart of Rocky Mount to see what the city had to offer. The Wesleyan community was able to stop by and take advantage of discounts at Aroma Bar & Bistro or Moe & D's Restaurant Grill & Bar. There was an exclusive alumni-only event at Blanche's Bistro. Larema Coffee House hosted an open mic night with talent from NCWU and offered discounts for both students and alumni.
About North Carolina Wesleyan University
North Carolina Wesleyan University (NCWU) is a small, private Methodist-affiliated institution with a liberal arts-based core curriculum that prepares students for professional advancement, life-long learning and responsible participation in their communities. NCWU offers liberal arts, professional and graduate degree programs for traditional, transfer and working-adult students. The skills cultivated by faculty and built into the curriculum include critical thinking and reflection, communication, collaboration, and information technology. North Carolina Wesleyan University delivers education that is personal, practical and purpose-driven. Personal…through mentoring and the connections that are provided. Practical…by helping students develop lifelong skills. Purpose-driven…by helping them fulfill their purpose in life. With students from all over the United States and more than 40 different countries, the University has immense cultural diversity. To learn more, visit ncwu.edu and follow on Facebook, Twitter, LinkedIn, TikTok and Instagram.