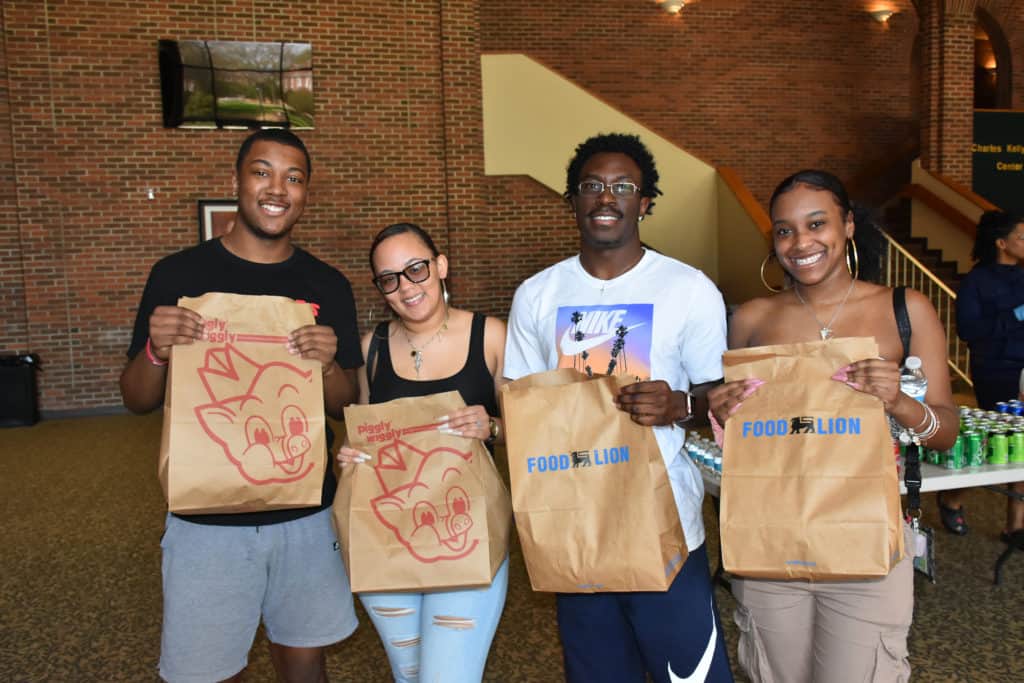 ROCKY MOUNT, NORTH CAROLINA – In an effort to assist students and support those on campus, Wesleyan provided care packages Friday, March 20 with help from local churches and organizations. Packages included snacks, drinks and other food items for students to take back to their residence halls.
NC Wesleyan currently has approximately 200 students remaining on campus to finish the semester via remote instruction. Many of these students do not have transportation or the financial means to return home. These care packages were distributed in hopes of boosting students' spirits, while showing them love and care during this national pandemic.
Organizations who signed up to donate items, dropped them off this week in The Dunn Center's Garner Lobby. Wesleyan staff were sure to practice social distancing and wore gloves while putting the care packages together. Students were strongly encouraged to also maintain social distancing while picking up their packages, as well as not congregating in groups of 10 or more.
The initiative was led by Director of YTI & Church Relations Mikah Brondyke. Nearly ten local organizations pitched in to help with the effort.
"I've really been amazed with how many and how quickly churches pitched into show support and love to our students. It's really been a testament to our community partnerships, specifically with local churches and other Christian organizations," stated Brondyke. "Thank you to everyone who has reached out showing support for our NCWC students and campus during this national crisis."
For those interested in donating additional items, please contact Mikah Brondyke at mbrondyke@ncwu.edu or 252.904.4678.