Pinning Ceremony Held March 22nd
ROCKY MOUNT, NORTH CAROLINA – The Teacher Education Program at North Carolina Wesleyan University held their Spring Symposium, featuring a pinning ceremony for program candidates, on March 22. Guest speaker was Corey Williams, an alumnus of Wesleyan and honoree of the 2021 Teacher of the Year for Northampton County Schools.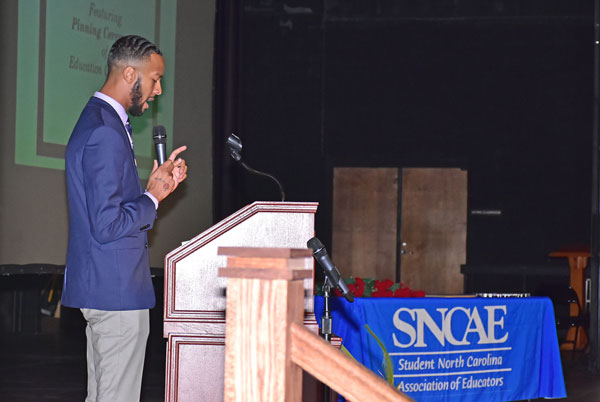 Williams, a sixth grade Mathematics and Science teacher at Gaston Middle School, just entered his eighth year in public education and third year teaching in the classroom. Over the course of his career, Williams has served in the Roanoke Rapids Graded School District, Halifax County Schools and currently, Northampton County Schools. A graduate of North Carolina Wesleyan University in 2018 with a Bachelor of Science in Special Education, his continued commitment to excellence celebrates students' learning differences and diversity in a responsive classroom.
During the Teacher Education Pinning Ceremony, forty candidates received certificates and education pins. This rite of passage marks the initial journey into teacher education where students transition into a noble career and dedicate themselves to lifelong learning.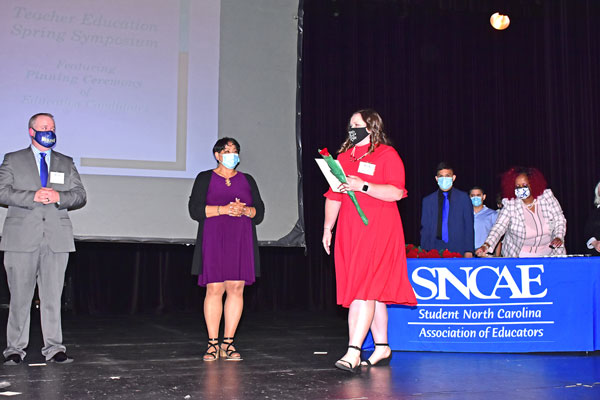 "The Teacher Education Program promotes a holistic approach to learning and embracing the whole child. I am extremely happy with the students' commitment to engage, love, share, foster and embrace teaching and life practices within the context of the K-12 students' experiences," stated Dr. Patricia Brewer, Associate Professor of Education.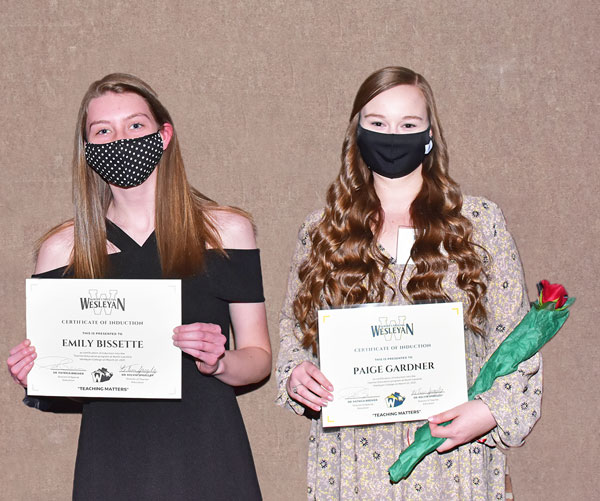 A highlight of the event was the announcement of the Taunja Cox College Scholarship— a $1,000 award given annually to a selected Wesleyan student majoring in special education. This opportunity was created by NC Wesleyan alumna, Glinda Williams of Kinston, North Carolina, in honor of her 34-year-old daughter, Taunja Cox, who was diagnosed with developmental disabilities at 18 months.
Since graduating from Kinston High School in the special education curriculum, Taunja has participated in work programs, volunteered with children at local daycares and is currently attending Lenoir Community College in the compensatory education class. This scholarship seeks to give back to students in the special education program who aspire to make a difference in the lives of those like Taunja. This year, the scholarship was awarded to two students— Emily Bissette and Paige Gardner, who are both double majoring in Elementary Education and Special Education.