ROCKY MOUNT, NORTH CAROLINA – North Carolina Wesleyan University held its 66th annual New Student Convocation today in Minges Auditorium at The Dunn Center. The 314 new Bishops are the first class of incoming freshmen to begin their educational journey under NC Wesleyan's new identity as a university. President Dr. Evan D. Duff welcomed the Class of 2026, congratulating them on taking the next step in their educational journey.
"We are your family, your home away from home. We want you to have a personal relationship, a connection, not only with your peers, but with faculty, staff and the administration. In everything you're learning or doing here, whether it's inside or outside the classroom, we want it to be relevant and practical. We really want you to find your purpose here at Wesleyan," stated Duff.
Guest speaker for the event was Carl Thomas, a 2002 Sociology alumnus and Co-Founder/Co-CEO of Professional Readiness Equals Progress (P.R.E.P.), LLC in the DC-Baltimore area. P.R.E.P., founded in 2014, is a full-service job readiness and workforce development program designed to provide comprehensive support to disadvantaged youth and adults.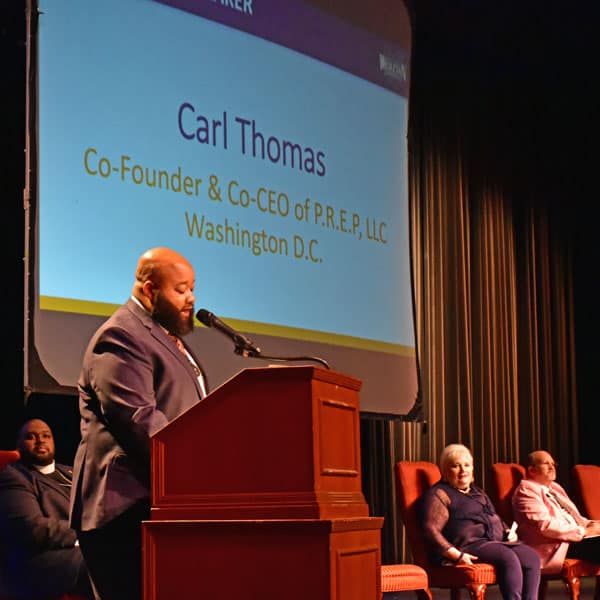 While addressing the newest class of Bishops, Thomas shared his experiences at NC Wesleyan and why he chose to attend. He noted that although he was accepted at other larger institutions, Wesleyan's small environment and friendly staff suited his needs best. Thomas reminded students to focus on the importance of seizing opportunities when they are in front of them, to learn how to identify and solve problems in their community, and to take advantage of the many leadership and development activities available at North Carolina Wesleyan University.
"You will digest three truths that will frame your time here at North Carolina Wesleyan University—the first: you are exactly where you should be. The second: the people around you conspire with the universe for your greatness. The third: you could be anywhere else in the world, but you're here right now. Make that worth it. Take advantage of the many leadership opportunities and development activities at Wesleyan. Seize the opportunity to be great," stated Thomas. "As I look back on all the opportunities I've had, Wesleyan offered me so many things to grow and build on. At Wesleyan, I found a springboard which nurtured my capacity to see the value in my community and in my voice."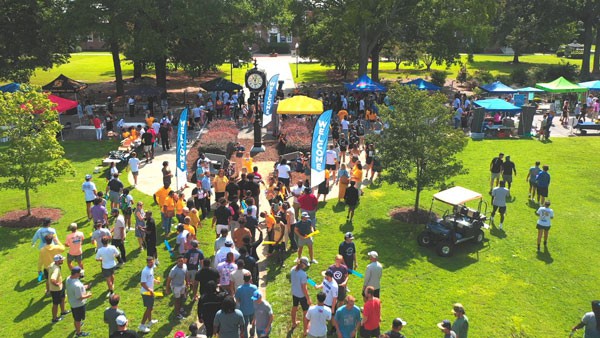 Afterwards, students exited The Dunn Center and were immediately greeted by a cheering crowd of returning students, faculty, staff and friends of NC Wesleyan who formed a time-honored tradition— the Bishop Tunnel. As they proceeded through the tunnel to enter the annual Rock the Mount event, they were each welcomed by President Duff and his wife, Marcy. Rock the Mount is an annual tradition for NC Wesleyan to welcome new students to campus and to the community. It takes place the day before the University's first day of classes, serving as the official kick-off event for the new academic year. Local businesses and organizations are given the opportunity to come and celebrate the start of a new school year with food, music and advertising. This year, almost 90 community organizations lined the street in the center of campus to celebrate Wesleyan's Class of 2026.
About North Carolina Wesleyan University
North Carolina Wesleyan University (NCWU) is a small, private Methodist-affiliated institution with a liberal arts-based core curriculum that prepares students for professional advancement, life-long learning and responsible participation in their communities. NCWU offers liberal arts, professional and graduate degree programs for traditional, transfer and working-adult students. The skills cultivated by faculty and built into the curriculum include critical thinking and reflection, communication, collaboration, and information technology. North Carolina Wesleyan University delivers education that is personal, practical and purpose-driven. Personal…through mentoring and the connections that are provided. Practical…by helping students develop lifelong skills. Purpose-driven…by helping them fulfill their purpose in life. With students from all over the United States and more than 40 different countries, the University has immense cultural diversity. To learn more, visit ncwu.edu and follow on Facebook, Twitter, LinkedIn, TikTok and Instagram.