ROCKY MOUNT, NORTH CAROLINA – Autumn Hues: A Collection of Diversity, the newest exhibit coming to The Mims Gallery at The Dunn Center, is a beautiful collection of works from the Wilson Active Artists Association. This free, colorful exhibit will run from September 1 to October 28, 2022 and is open to the public. A reception will be held on Thursday, September 1 from 5:00-7:00 p.m.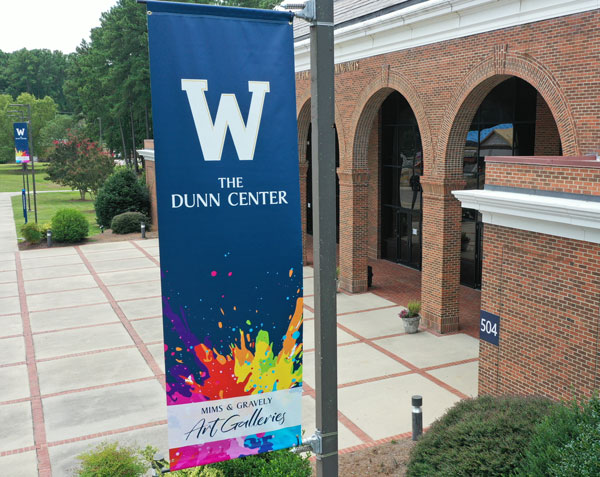 The Wilson Active Artists Association is one of the longest running nonprofit organizations in Wilson, North Carolina. Founded in 1965, its mission is to help promote art in Wilson. Over time, the Association has grown from its original eight members by providing opportunities for its artists to showcase their work in Wilson and the surrounding areas, as well as having education and awareness classes.
"I'm thrilled to be having the Wilson Active Artists showcasing their work in the Gallery. The chance to work with such a talented local group of artists was too great to pass up," stated Greg Purcell, Art Curator for The Dunn Center.
Wilson Active Artists Association works in a variety of mediums which include paintings, flow art, sculpture, ceramics, pottery, jewelry and fiber art. The Association is always welcoming new members not only from Wilson, but eastern North Carolina as well. For more information about the Wilson Active Artists Association, visit wilsonactiveartists.com.
Upcoming shows at The Mims Gallery include:
Connections featuring the work of Kim Valentine & Tracey Penrod from November 3, 2022 – January 2, 2023
A Colorful Chaos by artist Delayna Robbins from January 19, 2023 – March 9, 2023
Action Paintings by Wes Day from March 16, 2023 – April 27, 2023
Just Imagine by Mark Cole from May 4, 2023 – August 4, 2023

About The Dunn Center
The Dunn Center is a premier venue for concerts, shows, exhibits and conferences in eastern NC. Located on the campus of NC Wesleyan University, in the heart of Rocky Mount, The Dunn Center is proud to host the Wesleyan Season Series of cultural events and concerts. In addition to these world-class performances, The Dunn Center features a variety of campus and community events, including Wesleyan Players productions, concerts of the Tar River Swing Band and Orchestra and other various performances by nationally known artists. The Mims and Gravely Galleries, located within The Dunn Center, hosts a variety of exhibits, including paintings, drawings, and sculptures. The galleries are open weekdays from 9:00 a.m. – 5:00 p.m., as well as during performances. To learn more, visit dunncenter.com and follow on Facebook.
About Wilson Active Artists Association
Wilson Active Artist Association is an organization that seeks to create, promote, and support an interest in the visual arts through communication and the exchange of artistic ideas; to serve as a meeting place for artists; to furnish workshops in various art fields and mediums; to encourage participation in exhibits in Wilson and other areas. The Association holds monthly meetings on the second Tuesday of every month at 4:30 p.m. To learn more, visit wilsonactiveartists.com.