ROCKY MOUNT, NORTH CAROLINA — Equines and Abstracts, recent paintings by Laura Berendsen Hughes, will soon be adorning the walls of the Mims Art Gallery on the campus of North Carolina Wesleyan University. Durham artist, Laura Berendsen Hughes, is exhibiting her dramatic and monumental silhouettes of horses and abstract expressionist paintings from March 3, 2022 – March 6, 2022. A reception will be held from 5:00-7:00 p.m. on Thursday, March 3 to celebrate the opening of this stunning exhibit.
An acrylic painter, Laura's recent work features both equines and abstractions. Categorically, her works of art reveal her painterly "dance" (so to speak) between their designedly structure and freedom. Her classical silhouettes of horses are realized in wild color and improvisational brush strokes. With creative skills from many years working as a graphic artist, Laura's abstract expressionist works engage us with an exciting, tensional equilibrium between hard-edge form and the freeing dynamic of loose brushwork. In both equines and abstract expressionist works, you will see an uncompromising point of excellence found in her exploration of the aesthetic process.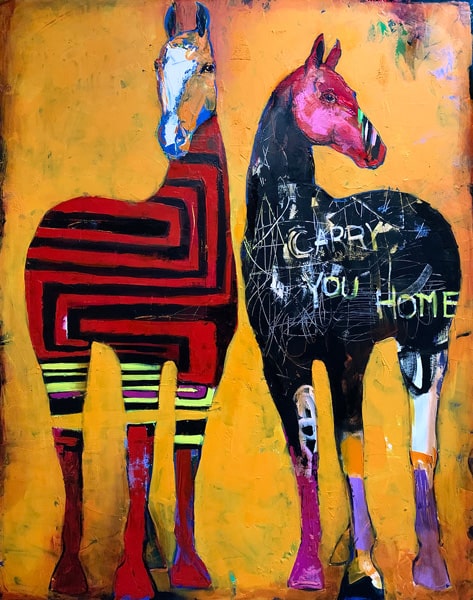 Regarding beauty, Laura states, "Beauty isn't the same as prettiness. For me, beauty is deeper and must contain chaos, decay and imperfection." About her work she says, "What looks intuitive and spontaneous in my work actually starts with a computer sketch. As an unapologetic copyist, I steal brush stokes, colors, shapes and techniques from my other paintings… every step of the process is open to new inspiration. I'm a materialist at heart, [ultimately] I love to see what the paint wants to do and let it have a say in what finally shows up!"
Laura has a Bachelor of Fine Arts (BFA) in Sculpture from UNC-Chapel Hill and has worked as a professional graphic designer for several years now. She uses her graphic design expertise as an integral part of the creative process of painting. As an active exhibiting artist in a variety of venues, she is experiencing both recognition and success. Laura is represented by The Carlton Gallery in Banner Elk, NC and The Centerpiece in Raleigh, NC.

About The Dunn Center
The Dunn Center is a premier venue for concerts, shows and conferences in eastern NC. Located on the campus of NC Wesleyan University, in the heart of Rocky Mount, The Dunn Center is proud to host the Wesleyan Season Series of cultural events and concerts. In addition to these world-class performances, The Dunn Center features a variety of campus and community events, including Wesleyan Players productions, concerts of the Tar River Swing Band and Orchestra and other various performances by nationally known artists. The Mims Gallery, located within The Dunn Center, hosts a variety of exhibits, including paintings, drawings and sculpture. The Gallery is open weekdays from 2:00-4:00 p.m., as well as during performances. To learn more, visit dunncenter.com and follow on Facebook.