ROCKY MOUNT, NORTH CAROLINA – North Carolina Wesleyan University held its 65th annual New Student Convocation today in Minges Auditorium at The Dunn Center. President Dr. Evan D. Duff welcomed the Class of 2025, congratulating them on taking the next step in their educational journey.
"Get involved. Get connected. You never know who you may network with while you're in college that might help you in your future. Have fun, but remember to study and stay safe— take care of each other," stated Duff.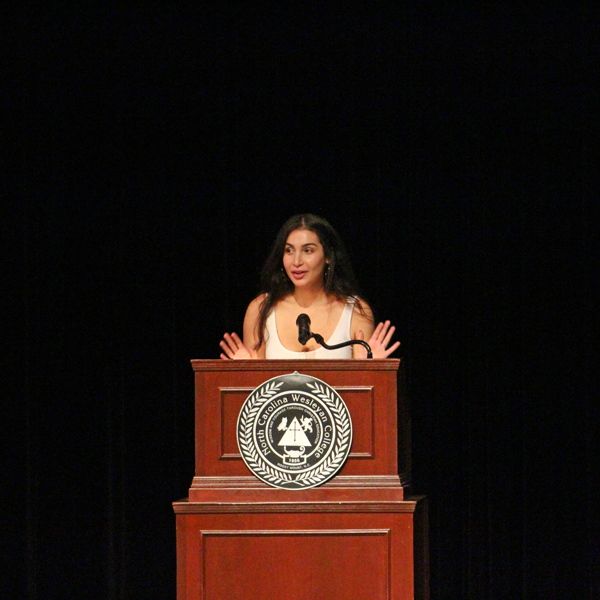 Keynote Speaker for the event was Etaf Rum, local businesswoman and novelist. She is the author of A Woman Is No Man, a New York Times bestseller, which hit the ninth spot on Amazon's Bestseller List and was selected by Jenna Bush Hager as her book club's May 2019 read. Rum is part-owner of three local businesses in Rocky Mount—Barley & Burger, a bold and refined kitchen and bar, and Tipsy Tomato, a premier Italian pizza restaurant. Her newest venture, Books and Beans, centers around two of Rum's favorite things: writing and coffee. Outfitted with a counter and handful of tables, Books and Beans also serves breakfast, lunch and coffee from a North Carolina roaster.
While addressing the new class of Bishops, Rum shared tips to encourage discipline and goal-setting throughout their college experience. She also spoke about learning how to overcome adversity for success, transforming through suffering and developing the mindset of a winner.
"We often forget that college is a place where we learn how to learn. If there's anything that you can take with you throughout these four years, it's how do you develop the mindset of a winner?" stated Rum. "There are three things that I think are very important for you to foster before you leave Wesleyan…go after what you want, be disciplined and transform through suffering. It's really important for everyone here to understand that you have the power to learn from your adversity."
Rum grew up in a Palestinian-American household as the oldest of nine children in Brooklyn, New York. While raising her two children, she enrolled at North Carolina State University, where she earned a B.A. in English Language and Literature, a B.S. in Philosophy, and an M.A. in American and British Literature and Philosophy. In addition to speaking at North Carolina Wesleyan University's New Student Convocation, Rum also addressed educators at Faculty Convocation on August 17.
After New Student Convocation, students exited The Dunn Center and were immediately greeted by a cheering crowd of returning students, faculty, staff and friends of the College forming a time-honored tradition— the Bishop Tunnel. As they proceeded through the tunnel to enter the annual Rock the Mount event, they were each welcomed by President Duff and his wife, Marcy. Rock the Mount is an annual tradition for NC Wesleyan to welcome new students to campus and to the community. It takes place the day before the College's first day of classes, serving as the official kick-off event for the new academic year. Local businesses and organizations are given the opportunity to come and celebrate the start of a new school year with food, music and advertising. This year, nearly 80 community organizations lined the street in the center of campus to celebrate Wesleyan's Class of 2025.