Thomas and Cynthia Dyer Endowment Fund Established to Support Program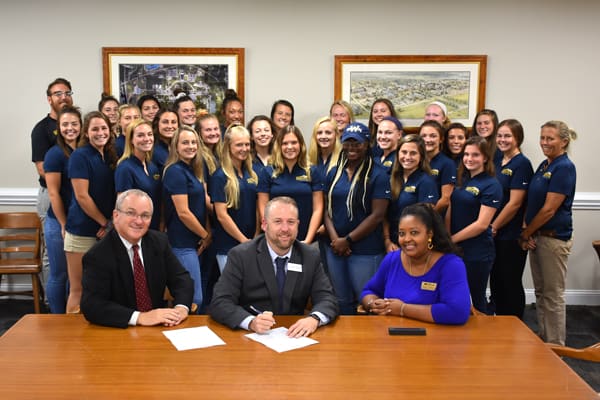 ROCKY MOUNT, NORTH CAROLINA – The Battling Bishops Women's Soccer program recently received a $10,000 endowment. This gift was made possible due to the generous support of two previous North Carolina Wesleyan University students— Thomas and Cynthia Dyer.
Women's Soccer at NC Wesleyan started in 1983 and has grown immensely over the years. With the broadening of the program and its success comes increased costs including uniforms, travel for away games and lighting for the complex. To assist with these needs, The Thomas and Cynthia Dyer Endowment Fund was established by Cynthia Dansie Dyer of Maryland and Thomas G. Dyer '70 of Virginia. Long supporters of North Carolina Wesleyan University, the Dyer's remain involved with the Nu Gamma Phi Fraternity, giving to the efforts of establishing scholarships and support for the Hartness Center, among other endeavors.
"It's a privilege to assist the Women's Soccer program. We feel fortunate to be able to support Wesleyan and the growth that this program has experienced," stated the Dyer's.
It's their desire to leave a legacy with their alma mater in the form of an endowment. When Women's Soccer Coach, Beverly Biancur, expressed the need for additional support of certain initiatives such as her vision for a Soccer Complex Wall and other enhancements that refine the student athletic experience, the Dyer's seized the opportunity.
"I am grateful for this extremely generous endowment from the Dyer's for our program. These young women and those before them have exemplified academic excellence with a 98% graduation rate, acceptance into grad school and professional occupations, a competitive desire for excellence and a willingness to serve their community," stated Biancur. "This endowment will help to provide these women with support, facilities and equipment to achieve the individual goals and team expectations now and into the future."
The Thomas and Cynthia Dyer Endowment is one of four endowments created to support Wesleyan's athletic programs. Wesleyan is excited about its potential growth, which will benefit the Women's Soccer program for years to come. These benefits will make a massive impact on the quality of the program, and most of all, the life of Wesleyan's student-athletes.
The Dyer's met at Wesleyan in 1966. In 1967, Cynthia transferred to nursing school obtaining her degree in 1970. Thomas graduated from Wesleyan in 1970 with a degree in Economics. Shortly after graduation the two married that same year and today reside in North Carolina.
The NC Wesleyan Women's Soccer program is home to seven All-Americans and a National Player of the Year. The program has won numerous USA South Conference Tournaments and recently received its eighth consecutive National Coaches Association Team Academic Award. The 1994 season saw the Bishops reach the NCAA Division III Final Four.