As a Health Promotion major, you'll be prepared to work in fields aimed at improving the health of individuals, populations and communities and be equipped with the knowledge and skills to pursue certification as a health education specialist.
What you'll study
The mission of the NCWU Health Promotion program is to prepare students to work in fields aimed at improving the health of individuals, populations, and communities. The program prepares students to work with community organizations, government agencies, public and corporate health organizations, and educational institutions. The Health Promotion program at NCWU is designed to equip students with the knowledge and experience to pursue the Certified Health Education Specialist (CHES) certification by the National Commission for Health Education Credentialing (NCHEC).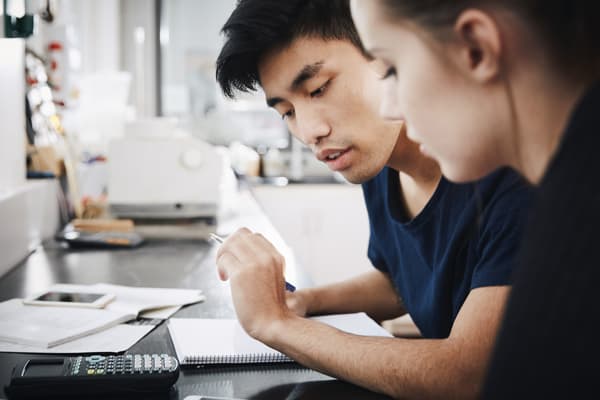 You will learn from world-renowned and accomplished faculty that mentor students through the latest research and practical applications in health promotion.
Faculty & Staff
Email any of our advisors with any questions you have about completing this program.
This program is designed for those who seek to work in fields aimed at improving the health of individuals, populations and communities. The program prepares students to enter a multitude of health promotion careers including working with community organizations, government agencies, non-profit organizations, public health, corporate organizations, health care settings, college/university campuses and schools. The program may also serve as a stepping stone for students to pursue graduate and pre-professional programs in public and allied health fields. The program in Health Promotion is designed to give students the experience and background to pursue the National Commission for Health Education Credentialing (NCHEC) Certified Health Education Specialist (CHES) certification.
Course Outline
Students in the Health Promotion program will develop a sound science background, and the critical thinking, communication and writing skills necessary to apply their knowledge to practical hands-on situations in the field of health promotion/public health. The program also serves as an option for students completing prerequisites for admission into a variety of professional or graduate programs in Health Promotion, Public Health, Allied Health and others.
Applied Learning With Our Community Partners
NCWU's Health Promotion program connects students to practical, hands-on experiences in public health, by working directly with community partners. In this manner, students have the opportunity to apply the knowledge and skills gained in their HLP courses to "real-world" practice.
NCWU Health Promotion students gain practical hands-on experience, working with the following community partners, as part of their curriculum at NCWU.
Harrison Family YMCA

Boys and Girls Club of the Tar River Region

City of Rocky Mount

Nash County Schools, Occupational Therapy

Vidant Health Occupational Therapy

Ripe for Revival

Rocky Mount Senior Center

Nash-Rocky Mount Schools Athletic Department

Brekenridge

 Retirement Center

Rocky Mount Academy

Rocky Mount Parks and Recreation

, Athletics Division

NCWU Health Center

Wesleyan Wellness, NCWU

NCWU Tennis
What are the courses like in Health Promotion at NCWU?
Check out our latest university catalog for learning goals, course descriptions and suggested plans of study for NC Wesleyan University's Health Promotion Program.
Research has consistently shown that healthy behavior is one of the greatest determinants of overall health. In the U.S., many of the most serious chronic diseases (diabetes, cardiovascular disease, certain cancers, others) are strongly associated with health-damaging behaviors such as physical inactivity, poor diet, smoking, and other health-harming behaviors. The field of health promotion focuses on identifying, intervening on, and reducing health damaging behaviors in order to improve the health of individuals, communities, and populations. In addition to the core tenants of health promotion, the Health Promotion program at NCWU has a unique emphasis on the role of physical activity in health and disease.
Career Options in Health Promotion?
Health Promotion Specialist: works to improve the health of individuals, populations and communities. Individuals in this field may work with organizations (example: government, non-profit), communities, schools, hospitals, or individuals in order to promote health and wellness.
Certified Health Education Specialist (CHES): works to help patients improve their overall well-being and quality of life through healthcare-related educational programs.
Health Information Analyst: works with healthcare providers in an effort to foster broadly-focused educational campaigns. Work in this area may involve the identification of existing problems in clinical healthcare settings, and/or shortcomings in existing public awareness initiatives, or best practices to help improve patient care, for example.
Community Health Promotion Specialist: works to gather and analyze healthcare-related information, report findings, and design campaigns to help disseminate health-related information to the community at large.
Wellness Director: works to improve individual's well-being in corporate business environments, as well as public community centers. A wellness director is responsible for a variety of projects designed to improve health and wellness in corporate or community environments.
Health/Wellness Coach: Helps individuals to lead healthy lifestyles by making positive behavioral and lifestyle changes. A health coach is a professional who provides coaching or counseling services to individuals who are interested to changing their health behaviors.
Epidemiologist: Epidemiologists are public health professionals who investigate patterns and causes of disease and injury in humans. They seek to reduce the risk and occurrence of negative health outcomes through research, community education, and health policy.
Graduate/Professional Study: A degree in health promotion may also serve as a stepping stone to graduate or professional study in such fields as Public Health, Nutrition, Epidemiology, Allied Health fields, and others.
Wesleyan is dedicated to assisting students in their professional development offering resources and guidance for hands-on learning experiences through internships, assignments within the courses and job search resources. Let us help you focus on your education and career at the same time!
24/7 Tutoring Services. Free & Easy.
North Carolina Wesleyan University is partnered with Brainfuse, a complimentary online tutoring service, provided to all Wesleyan students. This service is available 24 hours a day, seven days a week and features live tutoring in the subjects of writing, reading, math, computer and technology, science and business.
Student Organizations
Be engaged at NCWU!
Choose from 30+ student-led clubs and organizations to connect with other students who share your academic interests or… create your own.
Transfer Articulation Agreements
To simplify the transfer process, NC Wesleyan University has a number of partnerships with other community colleges, universities and institutions that allow students to enroll at NCWU with simple pathways. These agreements outline the courses you should take to prepare for transferring to NCWU. Review the full list of transfer articulation agreements to see if your institution is listed.