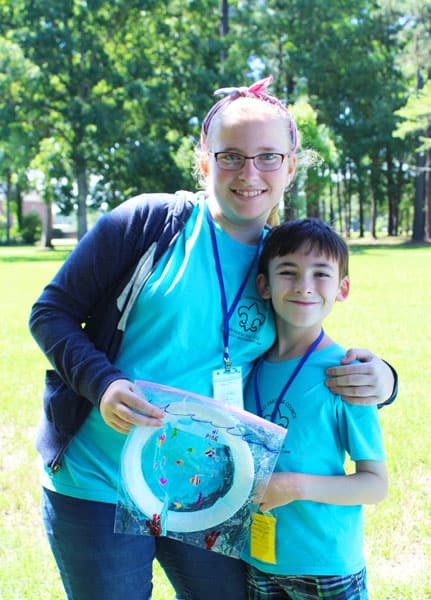 ROCKY MOUNT, NORTH CAROLINA – NC Wesleyan's campus is bustling with activity this summer as the College plans to host more than twenty summer camps, including academic and athletic camps. Every summer, Wesleyan opens its campus to a wide variety of camps, each ranging from 25 to 300 students.
Teach for America, returning for its eleventh year, kicked off the NC Wesleyan Summer Camps last week. The group significantly extended their stay this year beginning with a 14-day induction phase, followed by an additional 36-day stay later this month. The East Carolina Council Cub Scouts, supported by the United Way Tar River Region, and the Thompson NCWC Basketball Camp held half-day and full-day camps last week as well. UMC Youth Breakaway is expected to be the largest camp of the summer with 270 students in attendance, followed by the Ed Joyner Mission Camp to wrap up the month of June.
Wesleyan's Connect: Youth Theology Institute (YTI) will host two, week-long camps for rising tenth through twelfth grade students for its fourth year in a row on NCWC's campus. Connect exists to help high school students connect to Christ, Community and the Church. The program's goal is to encourage, empower and equip students to live out their faith wherever God places them. YTI presents many opportunities for students to draw closer in their faith and their peers through daily devotionals, small group exercises and prayer. Following students' week-long experience, students will be placed with a mentor who will help guide them throughout the rest of the year. Students who participate in YTI will be eligible to receive a scholarship opportunity from Wesleyan.
"Connect is a one of a kind experience! To see students from such diverse backgrounds and churches come together in the name of Christ is truly beautiful to witness each summer," stated Mikah Brondyke, NCWC Director of Connect. "My hope is that students will continue to grow in God's love for them and others. Love is what it's all about!"
The Shelton Challenge will return to NC Wesleyan's campus for another six-day residential leadership experience. The Shelton Challenge builds ninth through twelfth graders' leadership skills through General Shelton's five cornerstones of values-based leadership: honesty, integrity, compassion, diversity and social responsibility. Students will participate in team building activities, service projects and fun activities to get to know one another throughout their experience. A $1,000 scholarship will be offered to students who complete the Shelton Challenge and plan to enroll as a full-time undergraduate student at NC Wesleyan.   
The Christian Cheerleaders of America (CCA) camp will bring approximately 150 cheerleaders to campus at the end of June. CCA is a sports ministry that aims to use cheerleading as a means to disciple young people for Jesus Christ. Campers will be taught fundamental cheerleading techniques along with how to maintain Christian standards in their daily lives.
"Each summer, Wesleyan welcomes approximately 2,500 campers who depend on us to provide detailed customer service and the concentrated attention of a home away from home atmosphere. It is our goal to provide a partnership that can be trusted year after year to provide excellence in every facet of every day for every camp. If you bring your camp to Wesleyan, we will take exceptional care of you." stated Wesleyan Summer Camp Director, Kimla Brandt.
Returning in July for its twenty-fourth year at the College is Athens Drive Band, an award-winning, high school band from Raleigh. For a full list of activities and Wesleyan summer camps open to the public, visit the College's main Facebook page.