Due to expected inclement weather, this event will be held virtually. To view, CLICK HERE.
ROCKY MOUNT, NORTH CAROLINA –The Dunn Center will host Reverend Leonard Fairley, Resident Bishop of the North Carolina Conference of the United Methodist Church (NCCUMC) on Sunday, January 23, 2022 at 3:00 p.m. Bishop Fairley will be the guest preacher for an area wide worship service, a joint celebration held by North Carolina Wesleyan University and the United Methodist churches in and around Rocky Mount.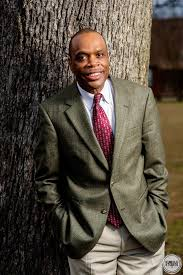 He became Resident Bishop of NCCUMC in September 2021, after serving the North Carolina Conference since 1984. Prior to becoming Resident Bishop, his last appointment in North Carolina was for the Capital District, NCCUMC's largest district, as the District Superintendent. He was then elected by the delegates of the Southeastern Jurisdiction of The United Methodist Church and appointed as Bishop of the Kentucky Conference in 2016.
"The Wesleyan community is honored to host Bishop Fairley and our area UMC pastors for this special service on our campus. We exist today because of our founders and the NC Methodist Conference. I could not be more excited to have this event in The Dunn Center," stated NC Wesleyan President, Dr. Evan D. Duff.
Bishop Fairley graduated from Pfeiffer College and Duke University's School of Divinity. He served at St. Peters in Hamlet and Soapstone in Raleigh before becoming the Rockingham District Superintendent. After serving as a District Superintendent for seven years, he returned to the local church in 2012 as Lead Pastor at Saint Francis in Cary, NC.
During the service, Bishop Fairley will welcome Dr. Jung Choi, Senior Director of Wesleyan Formation Initiatives at Duke Divinity School, and acknowledge the partnership that NC Wesleyan has with the school. NC Wesleyan announced in late 2021 that they had signed an agreement with Duke Divinity School to offer NCWC students an accelerated pathway to pastoral leadership. This agreement allows NC Wesleyan students to dual enroll at both institutions during their junior and senior years and work toward the completion of requirements for a Hybrid Master of Divinity (MDiv-H) or Master of Arts in Christian Practice (MACP) degree.
Bishop Fairley, a pastor, poet and man of deep, quiet faith, often shares his story of being born into poverty and from "the wrong side of town." "There were times when I didn't have food," he remembers. "There were tables that I knew I was not invited to. But there was always room at God's table… I always knew that at this table there was always enough, that I was always welcome."
He and his wife, Dawn, currently split their time between Kentucky and North Carolina.
The service is open to the public and everyone is invited to attend. Immediately following the service, there will be a time of fellowship and light refreshments.
To view the virtual event, CLICK HERE.