ROCKY MOUNT, NORTH CAROLINA— For the fifth consecutive year, North Carolina Wesleyan University has been named a Military Friendly School by Victory Media. This year, the college was awarded the Bronze Designation. Bronze Award winners have programs that scored within 40 percent of the 10th-ranked institution within a given category.
"At Wesleyan, we are committed to serving our active military, veterans, and their families," commented President Dewey Clark, "We want to do our part in helping make college affordable and attainable."
Wesleyan offers a 10% discount on tuition to all active duty military students, veterans and their spouses."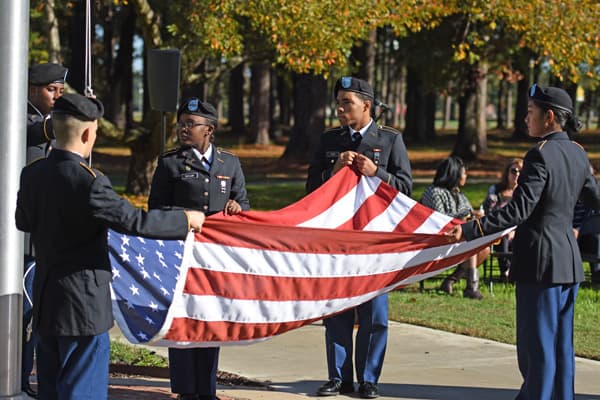 Victory Media's "military friendly" designation places Wesleyan in the top 15 percent of schools nationwide that are embracing military service members, veterans and spouses to ensure their success on campus. Institutions earning the Military Friendly® School designation were evaluated using both public data sources and responses from a proprietary survey completed by the school. For the first time, student survey data was taken into consideration for the designation. More than 1,300 schools participated in the 2017-2018 survey with 849 earning the designation. Victory Media's Chief Product Officer Daniel Nichols stated, "Our ability to apply a clear, consistent standard to colleges creates a competitive atmosphere that encourages colleges to invest in programs to provide educational outcomes that are better for veterans."
Wesleyan offers students a program in Military Science (ROTC–Reserve Officers' Training Corps) that combines college courses with summer training sessions to prepare students who show potential to serve as commissioned officers in the Army, Army Reserve, or the Army National Guard. U.S. Army Lieutenant Colonel, James Mercer heads Wesleyan's Army ROTC program. He is a 25-year highly decorated Army veteran and public safety program professional who has worked for the U.S. Department of Homeland Security, FEMA and as the Director of Emergency Management Services for the City of Raleigh.
LTC James Mercer USA (Ret) stated "The NCWC ROTC's aim is to develop student leadership skills, provide an understanding of military customs and traditions, and offer students' excellent ways to jumpstart their military or civilian careers."
Enrollment in ROTC is open to all Wesleyan students, including those at the community colleges that participate in a Comprehensive Articulation Agreement with NC Wesleyan University.
A complete list of the 2017-2018 Military Friendly® Schools can be found at www.militaryfriendly.com. More information on Wesleyan can be found at ncwu.edu. Contact ROTC@ncwu.eduor 252-985-5340 or more information on the NCWC ROTC program.