ROCKY MOUNT, NORTH CAROLINA – On Monday, October 25, North Carolina Wesleyan University celebrated its 65th Founding Anniversary during the College's annual Founders' Day Celebration. The event took place from 5:30 – 6:30 p.m. in Minges Auditorium at The Dunn Center.
The celebration began with a processional consisting of NCWC international students each carrying a flag representing their country, followed by faculty members. An invocation was given by College Chaplain, Rev. Edwin M. Ferguson, presentation of the colors by NC Wesleyan's Army ROTC and the singing of the National Anthem by the Tar River Children's Ensemble. President, Dr. Evan D. Duff, welcomed the crowd of over 600 students, faculty, staff, friends of the College and members of the community.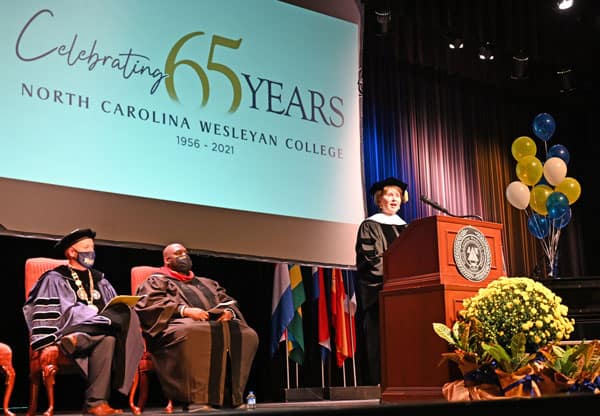 "This is a special Founders' Day for a couple of reasons. The first is that it's our 65th . We were founded exactly on October 25, 1956. This year we are putting a special focus on dedicated donors, past, present and future, who have created the Wesleyan we are today and the Wesleyan we will become," stated President Dr. Evan D. Duff.
During the ceremony, a slideshow was presented highlighting milestones throughout the previous 65 years. In addition, a video consisting of congratulations and well-wishes from board members, a descendent of one of the founders and supporters of the College was played, along with messages from students thanking supporters.
Guest speaker for the event was Dr. A. Hope Williams, President of North Carolina Independent Colleges & Universities (NCICU). Her message offered words of encouragement for celebrating this milestone occasion and emerging from the challenges faced during the pandemic.
"Individuals and companies continue to have the most important role in the growth and enhancement of a college. All have meant so much historically and certainly though the pandemic…to keep our students safe, along with our faculty and staff," stated Dr. Williams. "Under the critical leadership of President Duff, the service of the strongly committed Board of Trustees, and outstanding faculty and staff…Thank you for your leadership in transforming the lives and the futures of our students and their families."
NCICU is the statewide advocacy, public policy and fundraising organization for the 36 independent, or private, colleges and universities in North Carolina. As President, Dr. Williams is the Chief Executive Officer for the NCICU Board of Directors of college and university presidents and for the Independent College Fund of North Carolina board that also includes corporate trustees and raises corporate and foundation funds for student scholarships and programs. She has been president of NCICU since 1992. Dr. Williams received her undergraduate degree in French and History from Duke University, an MPA degree from North Carolina State University and a Ph.D. in Education from the University of North Carolina at Chapel Hill.
After Dr. Williams' keynote address, guests enjoyed a choral selection from the Wesleyan Singers, directed by adjunct faculty member, Thomas Parker. Following this was the presentation of the Algernon Sydney Sullivan Award by Aaron Denton, Vice President of Athletics. This nationally-recognized award honors the excellence in character, leadership, community service and spiritual values of the late Algernon Sidney Sullivan, a lawyer, scholar and orator. The recipient should display characteristics of compassion and love for one's fellow man and woman, adherence to Christian ideals, courteous and gentle behavior, and active participation in the College or community affairs. This year's recipient was Nathan Edwards '01 of Edwards, Inc., an industrial contractor headquartered in Spring Hope, North Carolina. Edwards' work to improve the experience and facilities for NCWC students has reached more than half of the College's athletic teams. He and his company's time and efforts were a key factor in helping the College recover from storm damage in June 2019.
In addition, an inaugural Donor Impact Award was presented by Mark Hinson, Director of External Affairs. This award honors an individual or company, regardless of the size of the gift or the manner in which it was given, for their exceptional vision and generosity towards North Carolina Wesleyan University becoming a healthier, safer and stronger institution. The 2021 recipient of the Donor Impact Award was Dr. Robert and Mrs. Nancy Zipf. Early in the pandemic, the Zipfs made it possible for NCWC to purchase high-quality air purifiers to help with COVID-19 prevention and the spread of it throughout the College's indoor spaces. Due to a prior obligation, the Zipfs were not able to attend the ceremony in-person. Accepting the award on their behalf was Dr. Jonathan Sarris and his wife Dr. Karin Zipf, daughter of Dr. Robert and Mrs. Nancy Zipf.
The event concluded with a reception immediately following in the Garner Lobby of The Dunn Center. Guests were able to browse through NC Wesleyan memorabilia on display while enjoying 65th anniversary cupcakes and lemonade.