ROCKY MOUNT, NORTH CAROLINA – The Mercer Foundation, Inc., founded by NC Wesleyan's Director of Military Studies, Lt. Col. (Ret) James Mercer, has partnered with Thornes Chapel Missionary Baptist Church , The Alpha Omicron Chapter of Omega Psi Phi, Inc. and Conetoe Family Life Center to assist Nash, Edgecombe and Rocky Mount communities during the COVID-19 pandemic.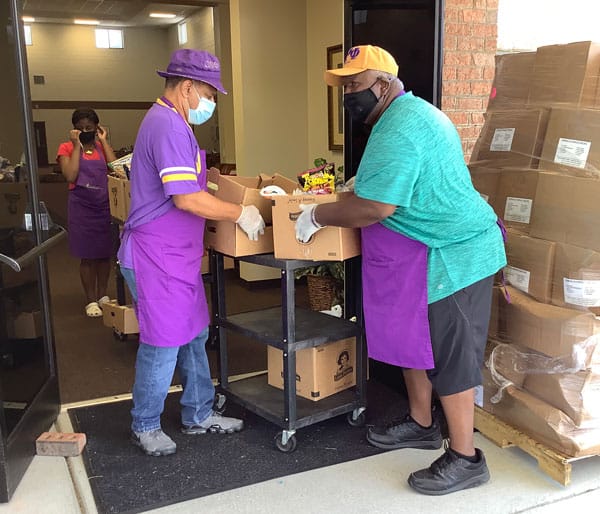 Throughout the current pandemic, Thornes Chapel Missionary Baptist Church, Alpha Omicron chapter members, volunteers from The Mercer Foundation, Inc. and Conetoe Family Life Center have been committed to serving their communities in various ways. These groups have made it their mission to provide donated food from the Eastern and Central North Carolina Food Banks and Conetoe Family Life Center to those in need and also helping the elderly of their communities.
During these unprecedented times, their members and volunteers have answered the call by assembling, packaging and distributing over 10,000 pounds of donated food to area residents and have helped more than 350 families in the month of July alone.
"Sadly, most people believe that hunger only affects people who are lazy, people who are just looking for a handout or people who don't want to work. However, many of us who are on the front-lines fighting hunger know that is not true. Here in our community, over one-third of our hungry people are innocent children who are members of households that simply cannot provide enough food or proper nutrition," Lt. Col. (Ret) James Mercer said.
Mercer, who serves as the Director of Military Studies and coordinates the ROTC program for North Carolina Wesleyan University, founded The Mercer Foundation, Inc. in late 2017. The organization seeks to create healthy opportunities for children and to provide assistance to disabled veterans. The major goal of the organization is to transform lives. They equip disabled veterans with necessary tools, education and vocational training and provide balanced meals for children in high-risk environments. Knowing well the challenges that face his community, Mercer founded this organization to make a positive impact. Understanding what veterans go through as a retired Lt. Colonel of 31 years, Mercer has firsthand experience in transitioning back into the work force after serving in the military.