ROCKY MOUNT, NORTH CAROLINA — Recent art works, Fantasy Fantastique by artist Patricia Horne, will soon be transforming Mims Art Gallery at North Carolina Wesleyan University. Her exhibition of colorful paintings, digital prints and sculptures will begin to blanket the gallery walls on October 28, 2021. Open to the public and free admission, come meet Patricia and enjoy refreshments at a reception on Thursday, October 28 from 5:00-7:00 p.m. in The Dunn Center's Mims Art Gallery. The exhibit will also continue to be showcased Monday – Friday 9:00 a.m.-5:00 p.m. and during evening events until January 3, 2022.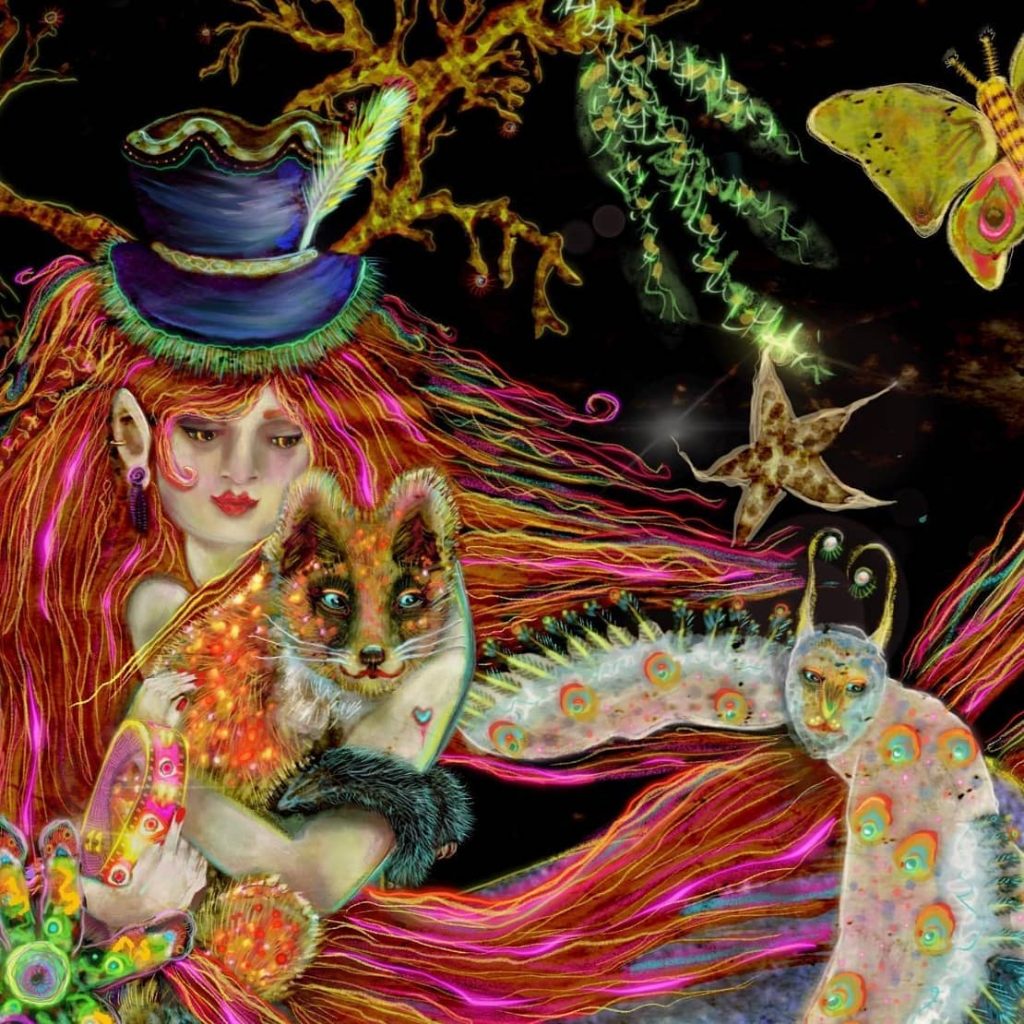 Gallery visitors will be lured in and transported into Patricia Horne's dreamy world of fairy tales and fantasy, where everyday realities lie somewhere else. The artist shares her own improvisational surprises with the viewer as her cast of people, creatures, plants and planets, each have their unique personas and exist in narrative harmony with one another. Outside of sculpture and traditional painting, the computer has more and more become the perfect medium and paintbrush for Patricia. The immediacy of pictorial form, phosphene color, shape-shifting change, and layering of environment and space keep her flights of fantasy and narratives fresh and alive.
Patricia, a life-long North Carolina native, has raised her family in Fuquay-Varina where she lives with her husband. Since childhood, making art has been one of her favorite things to do. In her teens, she competed at a national contest in NYC where she received the Gold Key Award and honorable mention for a pen and ink entitled "Lady In Command." After high school, she attended Chowan University between 1982 and 83 and then Hardbager Jr, College from 1983 to 84. Married with the responsibilities of raising a family, she put making art on hold. With children grown and on their own, it was a 2015 Zentangle class in art that recharged her artistic pursuits and ongoing non-stop career. Largely self-taught like so many other greats, she exhibits regionally, accepts commission art projects and is a resident artist in the 311 Gallery.
Don't miss this opportunity to view Patricia Horne's work. Her prints and paintings are for sale and will make a favorite addition in a home or special collection.
About The Dunn Center
The Dunn Center is a premier venue for concerts, shows and conferences in eastern NC. Located on the campus of NC Wesleyan University, in the heart of Rocky Mount, The Dunn Center is proud to host the Wesleyan Season Series of cultural events and concerts. In addition to these world-class performances, The Dunn Center features a variety of campus and community events, including Wesleyan Players productions, concerts of the Tar River Swing Band and Orchestra and other various performances by nationally known artists. The Mims Gallery, located within The Dunn Center, hosts a variety of exhibits, including paintings, drawings, and sculpture. The Gallery is open weekdays from 2:00-4:00 p.m., as well as during performances. To learn more, visit dunncenter.com and follow on Facebook.