ROCKY MOUNT, NORTH CAROLINA – North Carolina Wesleyan University (NCWU) and Wake Technical Community College (Wake Tech) today expanded their relationship by signing an education partnership agreement that supports undergraduate and graduate degree completion opportunities for Wake Tech employees.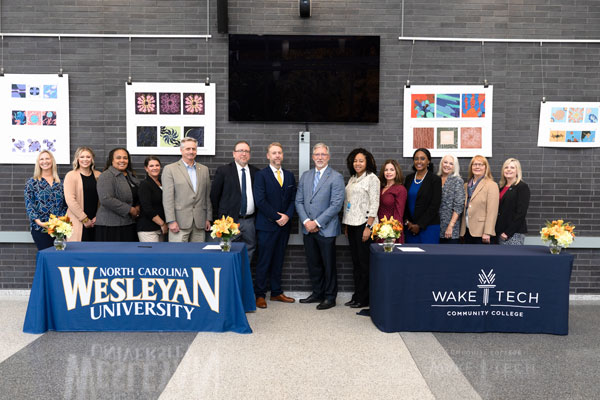 "This agreement is the first of many that we hope to institute with our Wesleyan Works community college partners. We have enjoyed a 10–year relationship with Wake Tech and look forward to enhancing the higher education opportunities for their employees," stated President Dr. Evan D. Duff.
This partnership allows Wake Tech employees to receive exclusive tuition rates to attend NCWU. The dynamic programs allow Wake Tech employees to remain employed while attending classes online or one night per week. One-on-one advising support and mentoring will also be provided.
"We value lifelong learning at Wake Tech, so we are excited to expand our partnership with North Carolina Wesleyan University to now include undergraduate and graduate degree opportunities for our faculty and staff at reduced tuition rates," said Wake Tech President Dr. Scott Ralls. "Employees who would like to further their education now have an affordable and accessible option."
Wake Tech and North Carolina Wesleyan already have existing transfer agreements in place that allow Wake Tech students to transfer to North Carolina Wesleyan and complete a bachelor's degree.
NCWU will offer a reduced tuition rate of $350 per credit hour for undergraduate programs and $400 per credit hour for graduate programs to the employees of select community college partners.
About Wake Technical Community College
Wake Tech is North Carolina's largest community college, serving more than 70,000 adults annually, with six campuses (a seventh campus under construction), two training centers, multiple community sites, and a comprehensive array of online learning options. Wake Tech is fully accredited by the Southern Association of Colleges and Schools and offers more than 250 associate degrees, diplomas, and certificates that prepare students for university transfer or immediate employment. More than half of those programs can be completed totally online. Wake Tech also offers short-term, non-degree programs as well as public safety training, small business support, customized corporate training, and basic skills courses such as English as a Second Language and high school equivalency preparation. Wake Tech also serves high school students at four Cooperative Innovative High Schools in partnership with Wake County Public Schools. For more information, visit waketech.edu or @waketechcc on social media.
About North Carolina Wesleyan University
North Carolina Wesleyan University (NCWU) is a small, private Methodist-affiliated institution with a liberal arts-based core curriculum that prepares students for professional advancement, life-long learning and responsible participation in their communities. NCWU offers liberal arts, professional and graduate degree programs for traditional, transfer and working-adult students. The skills cultivated by faculty and built into the curriculum include critical thinking and reflection, communication, collaboration, and information technology. North Carolina Wesleyan University delivers education that is personal, practical and purpose-driven. Personal…through mentoring and the connections that are provided. Practical…by helping students develop lifelong skills. Purpose-driven…by helping them fulfill their purpose in life. With students from all over the United States and more than 40 different countries, the University has immense cultural diversity. To learn more, visit ncwu.edu and follow on Facebook, Twitter, LinkedIn, TikTok and Instagram.