ROCKY MOUNT, NORTH CAROLINA – On Thursday, April 21, North Carolina Wesleyan University celebrated the completion of phase one of its Sports Stadium and officially unveiled Stallings Field at the Vernon T. Bradley, Jr. Stadium. A highlight of the evening was a $1 million check presentation to the Campaign by Vernon T. Bradley, Jr. These funds made it possible for Wesleyan to construct a new turf field, install lighting and build additional parking.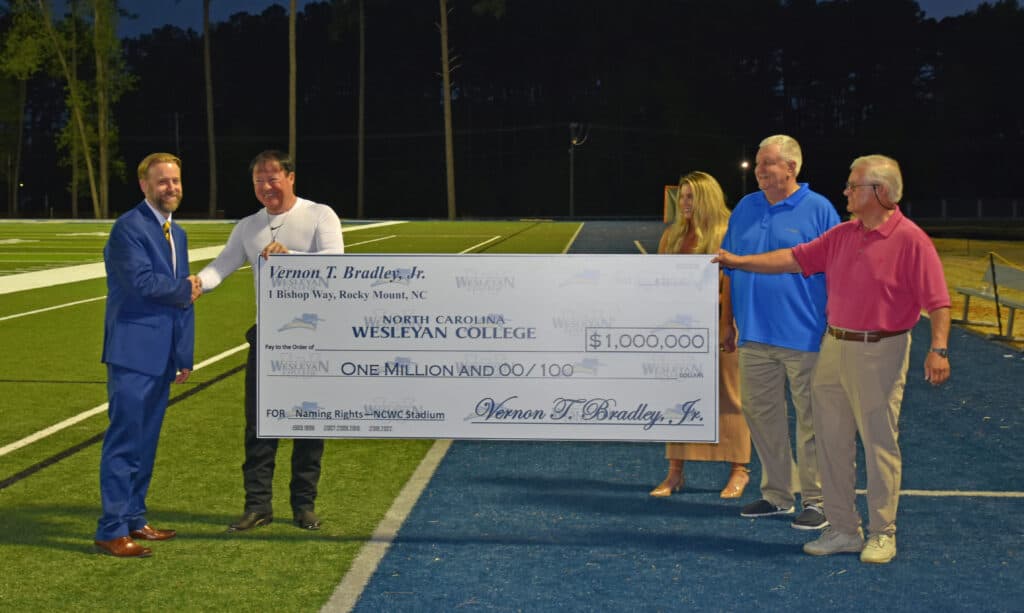 The Sports Stadium Campaign is completely donor-funded consists of four project phases. As funding allows, additional phases will include permanent seating, scoreboards, a press box and a new fieldhouse. The new fieldhouse will contain an athletic training room, weight room, classrooms, meeting space and offices. The project supports NCWC Athletics, specifically football, lacrosse, men's soccer and women's soccer. In addition, it also benefits the College academically since in the past, athletes have had to miss afternoon classes to travel and shorten practices. The new turf field and lighting allows student-athletes to practice and play games later in the evenings.
"This event was one we won't forget. The excitement of standing under those lights with so many students and community supporters was surreal. I cannot thank Vernon Bradley, Don Stallings and Marion Barnes enough for helping to make this a reality for our students," stated Aaron Denton, Vice President of Athletics.
Speakers at the event included Vernon T. Bradley, Jr.; Dr. Dan Crocker, Chairman of the NCWC Board of Trustees; Roger Taylor, NCWC Board Member and Athletics Committee Chair; Dr. Evan D. Duff, NCWC President; and Aaron Denton, NCWC Vice President of Athletics.