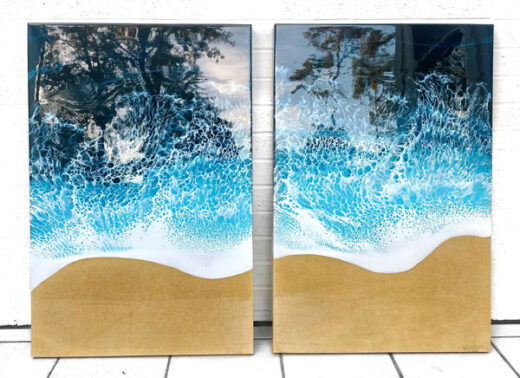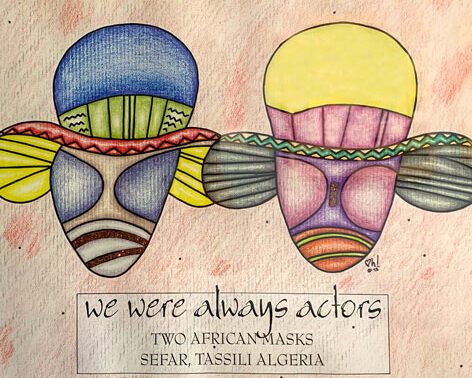 Otis Chancey
As an accomplished artist, entrepreneur and actor, Otis Chancey is intrigued by cave and tribal art of the Southwest and South Africa. Otis' work, consists of hand-colored prints. Illustrations from antique books and dictionaries caught his creative eye so he started his dictionary series based on quirky words and old designs.
Showing ran from August 14, 2023 – October 20, 2023
Delayna Robbins Art Showing
"A Colorful Chaos"
Delayna Robbins is a freelance painter and illustrator from North Carolina. Her work is often described as spiritual, cosmic and thought provoking. She specializes in painting surrealistic themes to tell stories; particularly people of color. Adding symbolism to her works, her messages in her art range from self healing, divine love, and self acceptance. To accomplish this, she interviews people on what makes them feel empowered and loved and reflects this throughout her work. Delayna has worn many hats during her freelancing career, running her own online store, painting murals, illustrating childrens' books, selling her art, gaining a following on youtube and designing various small business brands. She currently creates from a cozy studio at the Bel Air Artisan Center located in her hometown Rocky Mount, NC with her plant babies.
Showing ran from January 19, 2023– March 9, 2023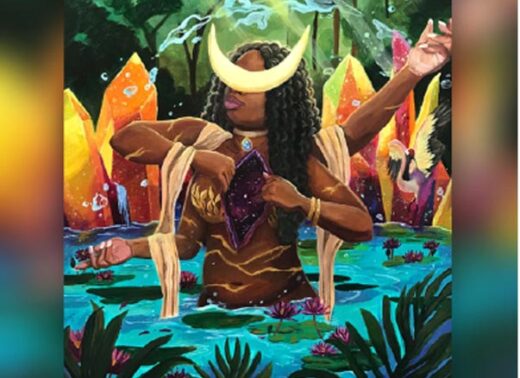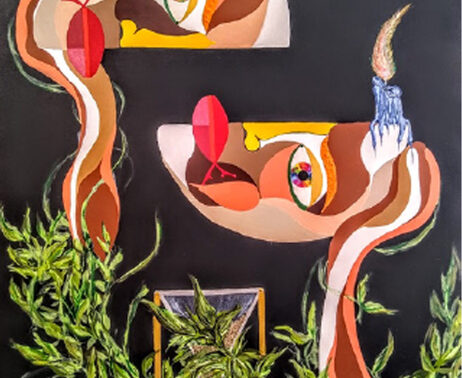 Mark Cole Art Showing
Mark Cole is an emerging artist who plans to dismantle your ideas of redemption and embrace social justice reform while doing so. Born and raised in Upstate New York, now a resident of Winston-Salem, North Carolina, Mark has a devotion for creation, advocacy, and accountability- which breathes life into every aspect of his art. READ MORE >
Showing ran from May 4, 2023– August 31, 2023
Mich Mich Art
Michelle Franklin, a fluid artist from North Carolina, presented her Mich Mich Art. Through her computer-generated artwork enhancements, viewers are able to point a mobile phone at each piece of artwork to experience an enhanced virtual effect. It is very different from anything we have had here before.
Showing ran from May 1, 2023– August 8, 2023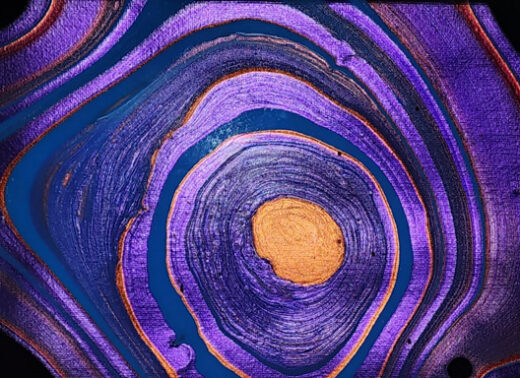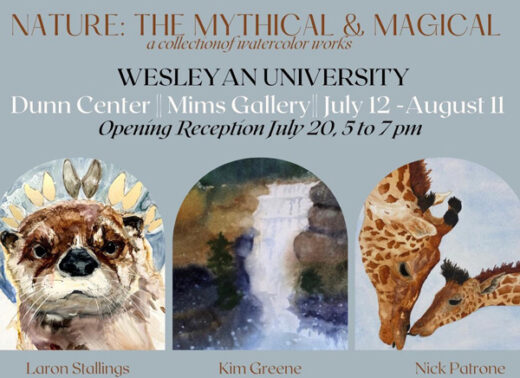 Nature: The Mystical & Magical Art
Artwork by Kim Greene, Nick Patrone and Laron Stallings.
Showing ran from July 12, 2023 – August 11, 2023
Breaking Through Imagination
Two of NC Wesleyan's International students, Vera Pardillo and Naomi Pilapal, displayed their artwork in the Gravely Art Gallery.
Showing ran from April 13 – May 8, 2023.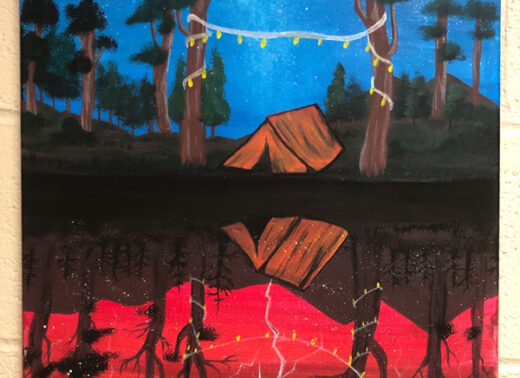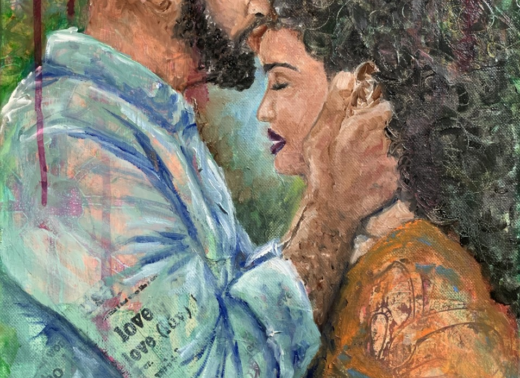 Kim Valentine
Kim Valentine has been inspired to create since she was a child. She loves to explore in many mediums such as alcohol inks, paper, splatter and stenciled paints just to name a few. Valentine states "I love to experiment with new ideas and techniques. I am always wondering what if….?
Showing ran from November 3, 2022 – January 2, 2023.
Tracey Penrod
Tracey Penrod is a contemporary artist that works in both abstract expressive and representational forms. Penrod states "my inspiration comes from moments and scenes captured in time that are both beautiful and peaceful in their simple nature".
Showing ran from November 3, 2022 – January 2, 2023.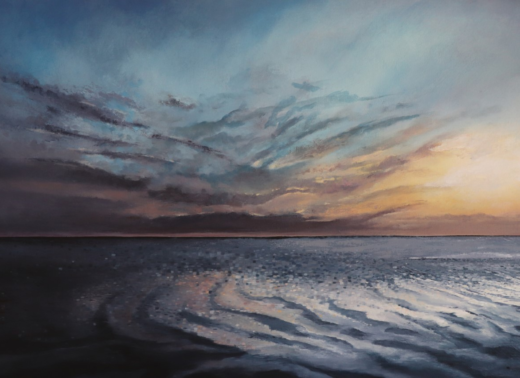 Black Diamond, Negro League Art Exhibit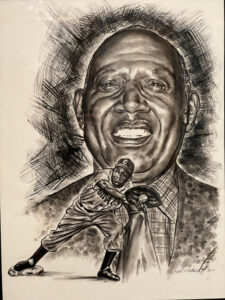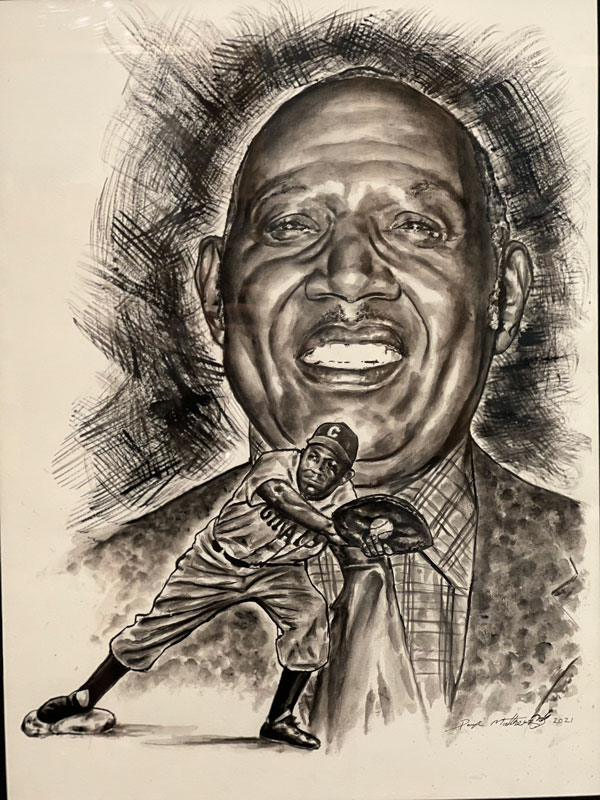 Black Diamond, inspires you to dig deeper into the old American past time—baseball. This solo exhibition, featuring over 20 works by artist Darryl Matthews, ran from September 22 – November 10, 2022.
Matthews is the son of late Negro Leagues' player, Francis Oliver Matthews. The exhibition provides an intimate view of the Negro Leagues through extraordinary paintings of players such as Buck Leonard, Josh Gibson, Satchel Paige, James Thomas "Cool Papa" Bell, Jackie Robinson, Francis Oliver Matthews, and female players Toni Stone, Mamie "Peanut" Johnson and Connie Morgan.
The Negro League underscored the racial, socioeconomic, recreational and political realities of the 19th and 20th centuries. In the African-American community, Negro League Baseball represented achievement, success, ingenuity, self-empowerment and perseverance. The leagues raised black consciousness and they were a catalyst for change. The stories of the games and the African-American and Latino players were chronicled in historically black publications, such as the Chicago Defender, Pittsburgh Courier and New York Amsterdam News. The teams barnstormed their way through U.S. cities and towns, the Caribbean and Canada, enthralling fans. Some athletes traveled overseas to play in Japan, as well. Wherever the players took to the field, they were building a legacy and creating history.
In December 2020, Major League Baseball (MLB) officially recognized the Negro League as Major Leaguers. All 3,400 players from 1920 to 1948 were elevated to MLB status—100 years after the start of the Negro League. The pronouncement is significant for a group of legends who broke new ground and paved the way for future generations.
This exhibit was presented in part by both the Buck Leonard Association for Sports and Human Enrichment and the Drinking Gourd Gallery, as part of a series of public events celebrating the 50-year anniversary of Buck's historic induction to the National Baseball Hall of Fame.
Darryl Matthews: Black Diamond celebrates these legends and all that they accomplished and symbolized. Established by family in 1999 to help organize and manage local youth baseball, the Buck Leonard Association for Sports and Human Enrichment (BLASHE) has evolved into an organization that engages and empowers children and families of Rocky Mount, NC with programming and resources that promote digital literacy, education, health, and community. For more information, please visit us at BuckLeonard.org.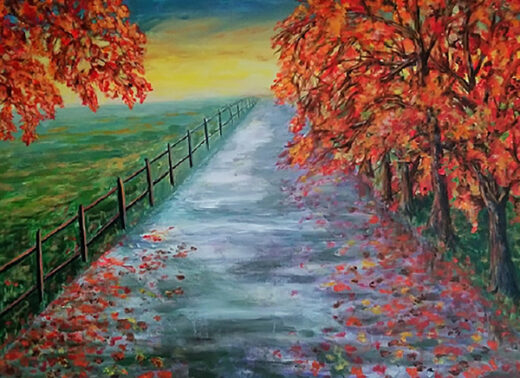 Wilson Active Artists Show
Autumn Hues: A Collection of Diversity, a beautiful collection of works from the Wilson Active Artists Association. This colorful exhibit ran from September 1 to October 28, 2022.
The Wilson Active Artists Association is one of the longest-running nonprofit organizations in Wilson, North Carolina. Founded in 1965, its mission is to help promote art in Wilson. Over time, the Association has grown from its original eight members by providing opportunities for its artists to showcase their work in Wilson and the surrounding areas, as well as having education and awareness classes.
Wilson Active Artists Association works in a variety of mediums which include paintings, flow art, sculpture, ceramics, pottery, jewelry and fiber art. The Association is always welcoming new members not only from Wilson, but from eastern North Carolina as well.
Nash Correctional Institution Art Exhibit
Finding Freedom Through Art by the Art Club at the Nash Correctional Institution
The purpose of the Art Club of Nash Correctional Institution is to provide academic and technical training for the inmates at the Institution. The art club offers art classes for the beginner to the advanced and all the classes are inmate generated and inmate taught. For the inmates, art has become a way of life; the benefits associated with working in art speak for themselves. Art gives the inmates a way to reconnect with family and friends and to heal damaged relationships.
Art transcends cultural barriers and the classes provide goals to work towards, inspire confidence, promote strong work ethic, and give better tools to communicate ideas or express emotion. Walking through the Mims Gallery during this exhibition will show how your current circumstances do not determine your future and how beauty can be found anywhere.
This exhibit is supported by the North Carolina Arts Council, a division of the Department of Natural and Cultural Resources as well as by the NC Department of Public Safety.
Showing
May 12, 2022 – August 5, 2022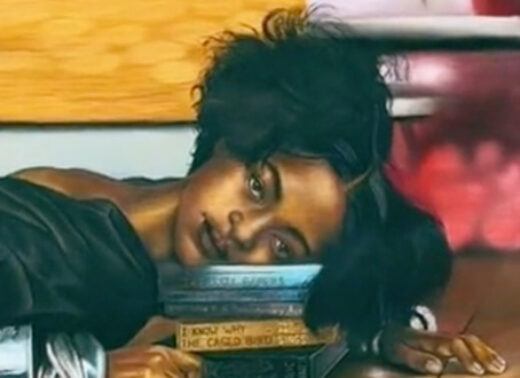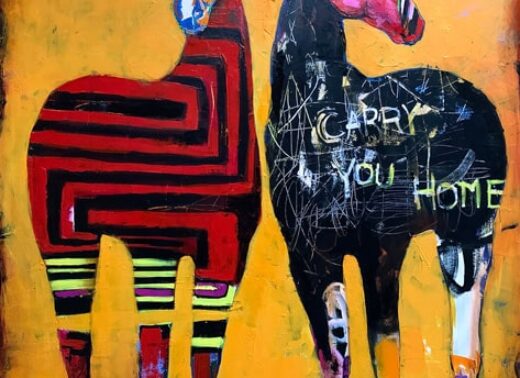 Laura Berendsen Hughes
Durham artist and acrylic painter, Laura's recent work features both equines and abstractions. Categorically, her works of art reveal her painterly "dance" (so to speak) between their designed structure and freedom. Her classical silhouettes of horses are realized in wild color and improvisational brush strokes. With creative skills from many years working as a graphic artist, Laura's abstract expressionist works engage us with an exciting, tensional equilibrium between hard-edge form and the freeing dynamic of loose brushwork. In both equines and abstract expressionist works, you will see an uncompromising point of excellence found in her exploration of the aesthetic process.
Regarding beauty, Laura states, "Beauty isn't the same as prettiness. For me, beauty is deeper and must contain chaos, decay and imperfection." About her work she says, "What looks intuitive and spontaneous in my work actually starts with a computer sketch. As an unapologetic copyist, I steal brush stokes, colors, shapes and techniques from my other paintings… every step of the process is open to new inspiration. I'm a materialist at heart, [ultimately] I love to see what the paint wants to do and let it have a say in what finally shows up!"
Laura has a Bachelor of Fine Arts (BFA) in Sculpture from UNC-Chapel Hill and has worked as a professional graphic designer for several years now. She uses her graphic design expertise as an integral part of the creative process of painting. As an active exhibiting artist in a variety of venues, she is experiencing both recognition and success. Laura is represented by The Carlton Gallery in Banner Elk, NC and The Centerpiece in Raleigh, NC.
Micah Mullens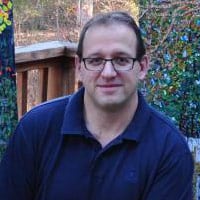 Micah Mullen makes gleefully arresting paintings that transform conventional realism into a visual world that the artist offers up as an alternate reality. Mullen's painting style is centered on his improvisation of pattern and color to make his pictorial subjects vibrate with optical energy. His evident labor-intensive process requires patience and time. In his own words he says this method, "allows my paintings to reflect my varying emotions and moods and in a strange way create a sense of balance and harmony in what are sometimes very detailed and confusing compositions."
Mullen studied at State University of New York at Brockport and Duquesne University. He is the Marketing Director at Jerry's Artarama in Raleigh, North Carolina.
Website:
www.micahmullen.com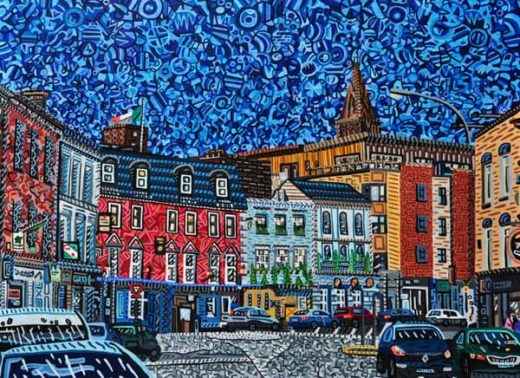 Ashley Fabrizio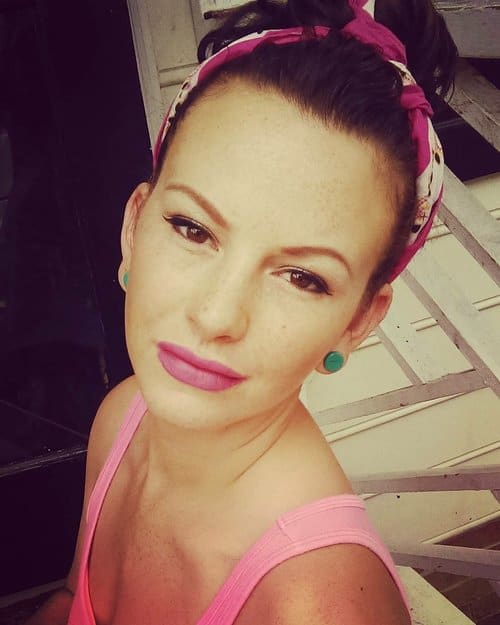 Already famous in local community, Fabrizio is the artist behind the 125-foot by 30-foot CSX mural on the side of Station Square in downtown Rocky Mount. Fabrizio will discuss her experiences as a muralist, commission painter and paint party hostess, as well as a creative force in regional expressionist painting. A "fearless" artist, there is no subject she will shy away from, including portraits of friends, celebrities and dogs in vivid color and bold brushwork. You can feel the energy and excitement in her paintings, as well as envision her ideas and thoughts about her subject matter.
Educated in local schools and a student of painting and art education at Barton College, Fabrizio has found her artistic voice as an expressionist where emotion and bursts of excitement drive her vision and painting style. She is an active member of both the Wilson and Rocky Mount art communities, as well as other regional venues.
A mother of two young children, Fabrizio balances her creative life with parenting. Her determination to make a living as a career artist is to be admired. You can find Ashley at the Bel Air Art Center in downtown Rocky Mount where her lively, free-spirited mural is already a Bel Air landmark.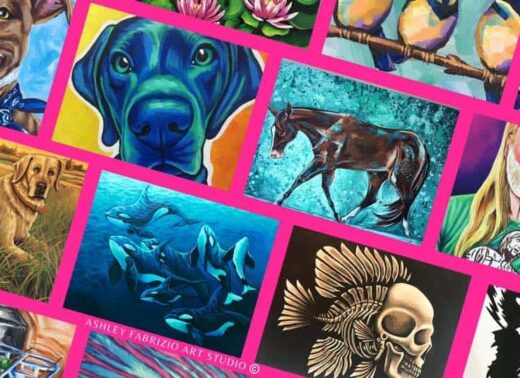 Koncept Photography Club: Area photographers expressing us and where we live.
The Koncept Photography Club has 21 members from around Edgecombe, Halifax, Nash Northampton and Warren Counties. Each member has their specialty and some members have broader interests in taking photographs. Twelve members are exhibiting their work in this exhibition.  Some club members specialize in portraits, formal and informal; candids are popular, where unplanned, the photographer captures someone doing something interesting or just looking good; events bring people together like car shows, ceremony especially like the Haliwa- Saponi Native pow-wow provide lots to photograph; wild life and nature are tricky…sneaking up on a bird and waiting for a sunrise are all a part of this interest; city and country environs are subject matter, architecture new and old and in different extant states and conditions, modern, historic and falling down….all such concerns and fascination interest club photographers. Subjects in a photograph are important, but equally important are the seasoned photographer's skill and artistic instincts for composition, color and atmosphere qualities, capturing action and movement, also clarity and sharp contrast…all aspects featured in the Koncept Photography exhibition.
Today the camera has changed and changes all the time….digital photography by camera and iphone dominate the photographers equipment…no more spool film and darkroom technology. But the Koncept Photography Club's Mission Statement says it best: "The camera may change, but the concept stays the same."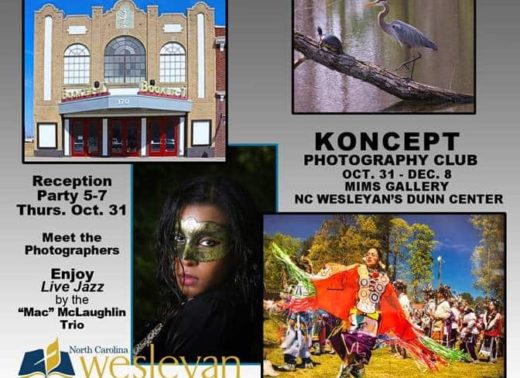 As a Haliwa-Saponi tribal native, Native American photographer, Ivan Richardson concentrates much of his photographic work in the Hollister, NC community. His photographs chronicle contemporary history of regional events and the annual tribal powwow where members from a variety of east coast tribes join in fellowship and celebration. A ready-to-serve portrait photographer, he especially values the opportunity to make photographic portraits of tribal elders. In his gallery exhibition, you will see a wide variety of subjects. Portraits of powwows show ceremonial dancers in their colorful, traditional regalia captured in dynamic dance movement.
Ivan's success and professional reputation have grown since beginning Fotoworkz in 2014. Life itself opens photographic possibilities for him, between family, tribe and twenty-five years as a volunteer fireman. He has regularly exhibited, and received accolades, at the Annual Native American Unity Conference in Raleigh, NC. One of his photographs was featured in the Roanoke Rapids Daily Herald in 2019. He was awarded the front cover of McLane Industries' MERIT Magazine with one of his colorful powwow photographs. Along with continuing his usual photographic work in portrait and chronicling community events, Ivan is looking forward to expanding his interest into wildlife subjects. This will be his second exhibition at the Mims Art Gallery and many of his photographs will be for sale.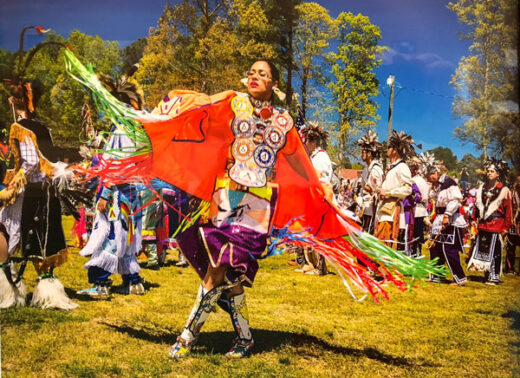 Patricia Horne
Fantasy Fantastique by artist Patricia Horne's, dreamy world of fairy tales and fantasy, where everyday realities lie somewhere else. The artist shares her own improvisational surprises with the viewer as her cast of people, creatures, plants and planets, each have their unique personas and exist in narrative harmony with one another. Outside of sculpture and traditional painting, the computer has more and more become the perfect medium and paintbrush for Patricia. The immediacy of pictorial form, phosphene color, shape-shifting change, and layering of environment and space keep her flights of fantasy and narratives fresh and alive.
Patricia, a life-long North Carolina native, has raised her family in Fuquay-Varina where she lives with her husband. Since childhood, making art has been one of her favorite things to do. In her teens, she competed at a national contest in NYC where she received the Gold Key Award and honorable mention for a pen and ink entitled "Lady In Command."  After high school, she attended Chowan University between 1982 and 83 and then Hardbager Jr, College from 1983 to 84. Married with the responsibilities of raising a family, she put making art on hold. With children grown and on their own, it was a 2015 Zentangle class in art that recharged her artistic pursuits and ongoing non-stop career. Largely self-taught like so many other greats, she exhibits regionally, accepts commission art projects and is a resident artist in the 311 Gallery.
Don't miss this opportunity to view Patricia Horne's work. Her prints and paintings are for sale and will make a favorite addition in a home or special collection.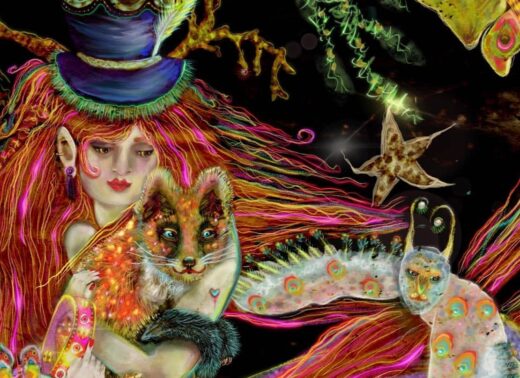 Japanese Embroidery Guild: Centuries-old tradition of thread-work images and designs.
Joseph Bounds: Echoes of Portraiture. Exquisitely painted fractured portraits and cubist figures.
Bound's oil paintings are not conventional portraits; his portrait subjects seem ethereal in fractured and layered abstract compositions that are carefully executed with delicately modulated tonalities. These images are profoundly psychological, even mystical, with personages appearing to exist simultaneously in the present, past, and future. What one might compare would be a slowly tumbling and rotating freeze-frame hologram.
When one takes in the artist's imaginative approach to the human form and portrait, it is not surprising to find out that Joseph Bound's earned his Bachelor of Fine Arts degree at the famous Chicago Art Institute, home to some of America's most unconventional imagist painting since midcentury. Home based in North Carolina, Bounds nevertheless exhibits his art internationally from the Saatchi Gallery in London to Limner Gallery in Hudson, NY. He has soloed at the Horace Williams House in Chapel Hill and Studio Oh in Chicago. 2018 he took First Place in a competitive exhibition at the Cape Fear Studios and Special Merit in Figurative Art at the LST Gallery on line.
He taught figure drawing in the Barton College Art Department in 2018 where his admirable reputation and artwork caught the interest of Wesleyan's Mims Gallery.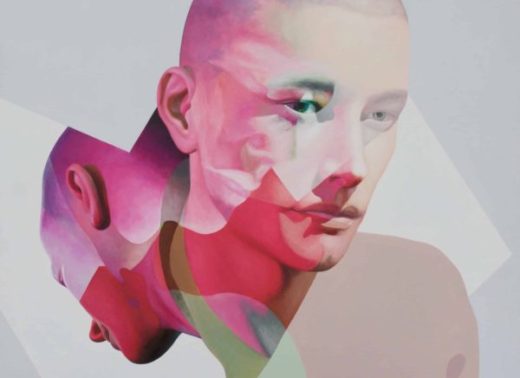 Englewood & Winstead Avenue Elementary Schools: Students of Ms. Carmichael and Ms. Hamilton in the Civic Gallery
Jan Volz: Light. Paintings and assemblages that focus on light.
Oona Lewis & Pegi Barnes Sharpe: Sublime and Seen. Wilson painters exhibit abstracts, landscapes and portraits.
Mr. Chips Invitational: Group exhibition of Mims Gallery artists from 1996-2019
For more information or to schedules tours and showings, contact:
Jan Volz
Gallery Art Curator
jvolz@ncwu.edu
252.985.5268
Hours:  Monday – Friday, 10 a.m. – 5 p.m.