ROCKY MOUNT, NORTH CAROLINA – North Carolina Wesleyan University was recently the recipient of a $17,000 scholarship made possible by proceeds raised from the 5th Annual Tackle the Tar 5K Obstacle Course Race & Family Fun Day. Hosted by the Rocky Mount Rotary Club, this event raises funds so area students can attend local colleges. Due to uncertainties surrounding COVID-19, the race was canceled for the year, yet the mission of the event was still a success.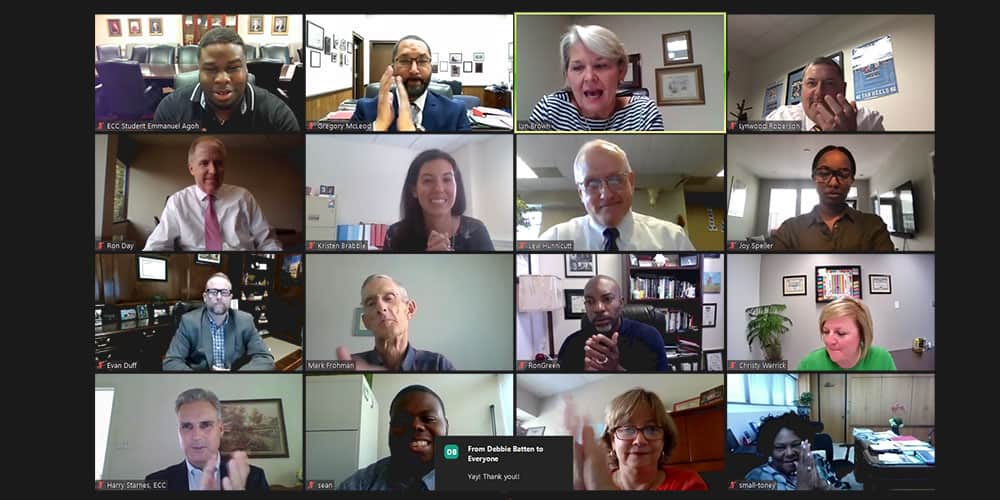 In the past five years, Tackle the Tar has given a total of $285,000 among Nash Community College, Edgecombe Community College and NC Wesleyan University. Scholarships provide significant support for many of NC Wesleyan's students seeking to further their education.
This year's presentation took place via a Zoom meeting between the Rotary Club and representatives of North Carolina Wesleyan University, Edgecombe Community College and Nash Community College. Rotary leaders presented a total of $51,000 in scholarship funds to the three Colleges. This year's funds were raised through sponsorships for the 2020 5K Obstacle Course Race. Though canceled, Rotary officials polled those who had already paid or committed to a sponsorship for the event and the consensus was to allow them to keep the funds and distribute to the colleges.
"I continue to be amazed by the outpouring of support from our community and specifically the Rotary Club for their yearly fundraising event, Tackle the Tar," stated NC Wesleyan President Dr. Evan D. Duff. "Their commitment to education in our region is demonstrated by their relentless dedication to funding scholarships for all three higher education providers in Nash and Edgecombe Counties. This is what makes a community resilient."
Next year's Tackle the Tar event is set for Saturday, May 15, 2021 at the Rocky Mount Sports Complex. The 5K race is packed with obstacles and offers competitive heats and fun runs.
Rotary International is a global network of 1.2 million neighbors, friends, leaders and problem-solvers who see a world where people unite and take action to create lasting change – across the globe, in our communities and in ourselves. Rotary members provide service to others, promote integrity and advance world understanding, goodwill, and peace through their fellowship of business, professional and community leaders.