Recognize A Deserving NCWU Student!

The DAISY Foundation
Celebrating nursing students who's care and compassion go above and beyond.
About The DAISY Foundation
The DAISY Foundation is a not-for-profit organization, established in memory of J. Patrick Barnes, by members of his family. Patrick died at the age of 33 in late 1999 from complications of Idiopathic Thrombocytopenic Purpura (ITP), a little known but not uncommon auto-immune disease. (DAISY is an acronym for Diseases Attacking the Immune System.)  The care Patrick and his family received from Nurses while he was ill inspired the creation of The DAISY Award for Extraordinary Nurses, an evidenced-based means of providing Nurse recognition and thanking Nurses for making a profound difference in the lives of their patients and patient families.
In addition to The DAISY Award for Extraordinary Nursing Faculty and The DAISY Award for Extraordinary Students, the Foundation expresses gratitude to the nursing profession internationally in over 3,600 healthcare facilities and schools of nursing with recognition of direct care Nurses, Nurse-led Teams, Nurse Leaders, Lifetime Achievement in Nursing, and through the J. Patrick Barnes Grants for Nursing Research and Evidence-Based Practice Projects. More information is available at DAISYfoundation.org.
Nominate a Deserving NCWU Student
The DAISY Award for Extraordinary Nursing Students honors nursing students for providing extraordinary care to patients and their families. Nursing Students may be nominated by colleagues, peers, patients, families, or alumni.  The award recipients are chosen by a committee at NC Wesleyan University to receive The DAISY Award which is presented once year at NC Wesleyan University's Rocky Mount Campus.
The award recognizes student nurses for:
Caring: Demonstrating extraordinary compassionate care of patients and their families.
Advocating: Going above and beyond and serving as a voice for the patient's needs or wants.
Leading: Being an extraordinary team member, demonstrating professionalism and outstanding clinical skills. Working with peers to improve the nursing profession and patient care.
Nominations OPEN
March 1 – April 30, 2023
Eligibility Requirements:
Student must be enrolled at NC Wesleyan University at the time of the nomination

Student must be starting NUR 400 and/or NUR 410 in order to be awarded in May 2023 (Nurses Week May 6 – May 12)

Student must be in good academic standing and have no prior student code of conduct violations
Honoree Receives:
A certificate for extraordinary nursing
A DAISY Award Pin
A beautiful and meaningful sculpture called A Healer's Touch, hand-carved by artists of the Shona Tribe in Zimbabwe
2021 Daisy Award Winner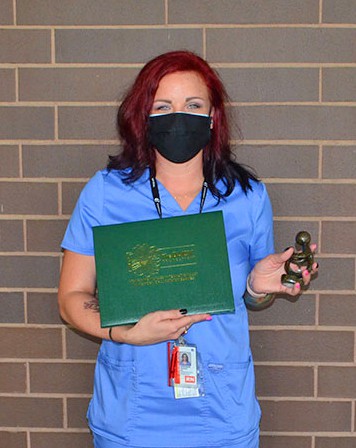 NCWC Student Receives Surprise Award for Excellence in Nursing
ROCKY MOUNT, NORTH CAROLINA – Stephanie Promish, a student in the RN to BSN program at North Carolina Wesleyan University, was honored this week with The DAISY Award® for Extraordinary Nursing Students (The DAISY Award). Ms. Promish, who works as a Registered Nurse at Cherry Hospital in Goldsboro, received a surprise visit at the hospital […]