Explore what makes up the world around us and why things are the way they are. Use math, theory, and experimentation to study matter and discover how things behave.
What You'll Study
The NCWU Chemistry Program prepares students for professional advancement, life-long learning and responsible participation in their communities by providing training, experiences, methodology and information in a technical field that is at the center of many professions and is critical to the solution of local and global challenges of today.
Chemistry has been called the central science because knowledge of chemistry and its tools is essential for effective operation in fields from biology to physics, medicine to materials science, nutrition to environmental management and many other areas. The most pressing global issues that we face today are in energy, food, water, health and environment and advances in chemistry will be required for triumph in each. North Carolina Wesleyan University intends to prepare its students to understand these issues from a chemical perspective and bring that perspective to bear on responsible solutions as professionals and informed debate as citizens.
The Chemistry program focuses on the scientific study of the composition and behavior of matter, including its micro- and macro-structure, the processes of chemical change, and the theoretical description and laboratory simulation of these phenomena. Students majoring in chemistry have plenty of hands-on work in the laboratory and are encouraged to work with faculty members on an individual research project.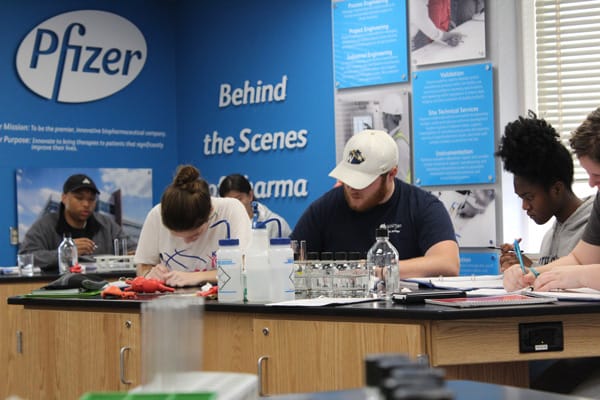 Faculty & Staff
Email any of our advisors with any questions you have about completing this program.
24/7 Tutoring Services. Free & Easy.
North Carolina Wesleyan University is partnered with Brainfuse, a complimentary online tutoring service, provided to all Wesleyan students. This service is available 24 hours a day, seven days a week and features live tutoring in the subjects of writing, reading, math, computer and technology, science and business.
Student Organizations
Be engaged at NCWU!
Choose from 30+ student-led clubs and organizations to connect with other students who share your academic interests or… create your own.
Transfer Articulation Agreements
To simplify the transfer process, NC Wesleyan University has a number of partnerships with other community colleges, universities and institutions that allow students to enroll at NCWU with simple pathways. These agreements outline the courses you should take to prepare for transferring to NCWU. Review the full list of transfer articulation agreements to see if your institution is listed.