It all started with a group of approximately 100 Rocky Mount citizens. Their foresight, determination and financial backing convinced members of the North Carolina Annual Conference of The United Methodist Church to help Rocky Mount meet the area's need for higher education.
On May 14, 1956, the North Carolina Annual Conference of The United Methodist Church met in Goldsboro and approved a petition from the people of Rocky Mount to locate a four-year, liberal arts college in their community. In early September, the first trustees established temporary headquarters in the Ricks Hotel. The first trustees were elected and one of the first actions of the Board was to name the institution North Carolina Wesleyan College, in the tradition of Methodist higher education that honors the founders of Methodism, John and Charles Wesley. The College was officially chartered by the State of North Carolina on October 25, 1956.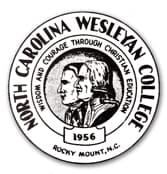 In 1960, 92 students enrolled in the first class at North Carolina Wesleyan College. The first yearbook, North Carolina Wesleyan, was published in 1962 with a very moving dedication to the city of Rocky Mount, North Carolina.
Capital investments totaling approximately $2 million made possible the construction of the main buildings on the 200- acre site donated by the M. C. Braswell heirs of Rocky Mount, and four years later, 92 students enrolled in the first class at North Carolina Wesleyan College. In 1964, 33 students received their degrees at the College's first Commencement.
Since those early days, nearly 9,000 students have earned bachelor's degrees in the arts and sciences. Alumni from Rocky Mount, neighboring communities, numerous states and many foreign countries affirm Wesleyan's value as an important institution of higher education in Eastern North Carolina.
Becoming a University
In April 2022, the North Carolina Wesleyan College Board of Trustees announced plans for the College to become North Carolina Wesleyan University. Since 2015, the College has been moving in this direction with the addition of its first two master's programs, a key component of being considered a university.
Some of the criteria that were considered when changing the name to "university" included: serving adult students, offering professional programs, offering graduate programs, serving a large percentage of international students and having multiple instructional locations. Despite this update to Wesleyan's name, its values remain the same:
To provide one-on-one mentoring opportunities for students with faculty and staff to align their passions with their future career and life aspirations.
To provide career and research opportunities to all students to enhance their marketability and skills beyond college.
To create world citizens with vast educational and hands-on experiences to be competent, intelligent, and competitive in a changing world.
To provide adult students with applied learning assignments and flexible instructional formats to advance their career and life goals.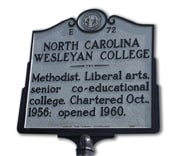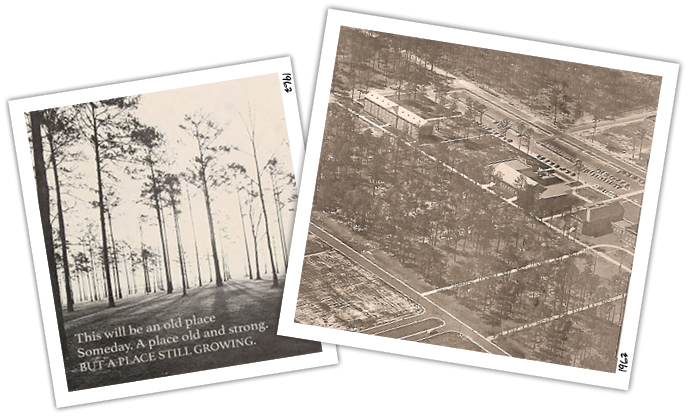 Becoming a university demonstrates the evaluation of our impact on students and the community over the last 65 years. We are moving in a direction to offer additional academic offerings for a more diverse community of students. Our foundation in becoming North Carolina Wesleyan University started over 45 years ago when we began offering various modes of instruction to working adult students. With this change, we continue to be committed to one-on-one mentoring opportunities, hands-on experiences with faculty, research opportunities for undergraduate students, career exploration from day one and remain a teaching-focused institution.
The University is accredited by the Commission on Colleges of the Southern Association of Colleges and Schools to award Baccalaureate degrees. Contact the Commission on Colleges at 1866 Southern Lane, Decatur, Georgia 30033-4097 or call 404.679.4500 for questions about the accreditation of North Carolina Wesleyan College.
The University is a member of the National Association of Schools and Colleges of The United Methodist Church, the North Carolina Independent Colleges and Universities, the National Association of Independent Colleges and Universities, the Association of American Colleges and Universities, the Association of Governing Boards of Universities and Colleges, the National Association of Colleges and Universities Business Officers and the American Council on Education. Women graduates are eligible for membership in the American Association of University Women.
The North Carolina Department of Public Instruction grants North Carolina teaching licenses to graduates of North Carolina Wesleyan who have completed the prescribed licensure program and who are recommended by the University. The teacher education program is accredited by the Association for Advancing Quality in Educator Preparation (AAQEP).
The Adult & Professional Studies programs offer learning opportunities for adult students who seek career advancement or personal enrichment. The program serves the Rocky Mount area and has additional campuses in Brunswick, Durham, Goldsboro, Greenville, Manteo, New Bern, Raleigh, Washington, Wilmington and Winston-Salem.
The Alma Mater
We honor faith that seeks life whole,
Whose hearts and minds unite in soul,
Whose freedom teaches self-control, A gift which we inherit.
Confirmed in these unrivaled years. Of learning, laughter, and of tears,
Of yearning hope amid our fears, We praise thee for thy spirit.
Wesleyan, our Alma Mater, Now we join with voices raised;
May thy name be blessed in singing, And by grateful lives be praised.