Choose to study what interests YOU! Explore general education in the arts and sciences as well as the benefit of doing specialized research in a single area.
What is a Liberal Arts Degree?
A liberal arts degree is a broad-based educational program that focuses on developing knowledge and skills in a variety of academic fields, including humanities, social sciences, natural sciences, and mathematics. It emphasizes critical thinking, communication, and problem-solving skills that prepare students for a wide range of career opportunities and lifelong learning. The degree is highly adaptable, enabling students to tailor their education to their interests and career goals, while also promoting intellectual curiosity and versatility.
Liberal arts degrees can lead to a variety of career paths, including in areas such as business, law, education, government, nonprofits, and the arts. NCWU graduates with a liberal arts degree are sought after by employers who value their broad-based knowledge, critical thinking abilities, and communication skills. Overall, a liberal arts degree provides a solid foundation for individuals who seek to make a meaningful contribution to society through their work and personal lives.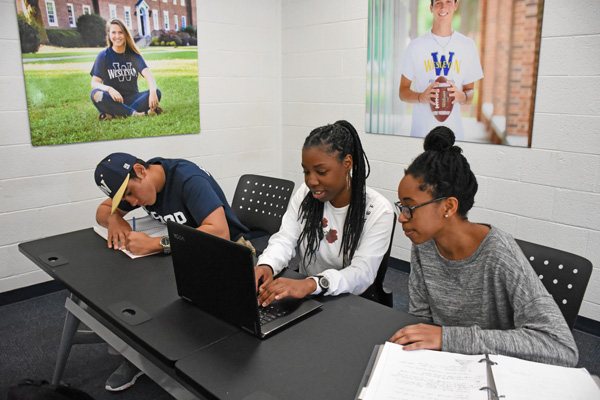 Liberal Arts Program at NCWU
The Liberal Studies degree program at NCWU allows students to design an individualized program of studies that forms a multidisciplinary major in an area not covered through one of Wesleyan's existing majors. You can choose from one of three, pre-approved courses of study: Communication, American Studies, and International Studies. Students will then take a required liberal studies seminar and develop a program of study with a faculty sponsor.
Individualized Programs of Study
All students' proposed courses of study will be reviewed by an advisory committee which oversees multidisciplinary Liberal Studies program. Upon approval of the course of study, the student will work with his or her advisor to complete the work in a timely fashion.
In the final year of study, students in the major will take our Liberal Studies Capstone Seminar during which students will synthesize work in their course of study in a variety of scholarly ways. Examination of key questions and complex problems from multidisciplinary perspectives are integrated throughout the course.
The NCWU Liberal Studies program offers Concentrations in the following areas:
Faculty & Staff
Email any of our advisors with any questions you have about completing this program.
24/7 Tutoring Services. Free & Easy.
North Carolina Wesleyan University is partnered with Brainfuse, a complimentary online tutoring service, provided to all Wesleyan students. This service is available 24 hours a day, seven days a week and features live tutoring in the subjects of writing, reading, math, computer and technology, science and business.
Student Organizations
Be engaged at NCWU!
Choose from 30+ student-led clubs and organizations to connect with other students who share your academic interests or… create your own.
Transfer Articulation Agreements
To simplify the transfer process, NC Wesleyan University has a number of partnerships with other community colleges, universities and institutions that allow students to enroll at NCWU with simple pathways. These agreements outline the courses you should take to prepare for transferring to NCWU. Review the full list of transfer articulation agreements to see if your institution is listed.