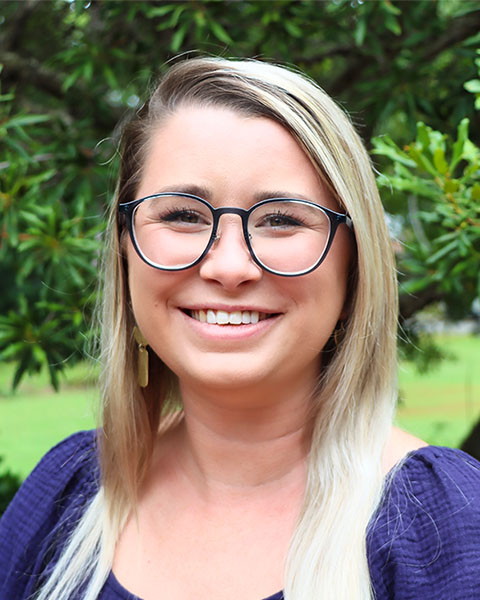 Location
Rocky Mount Campus
Counties
Bertie, Camden, Chowan, Currituck, Gates, Granville, Halifax, Hertford, Northampton, Pasquotank, Perquimans, Vance, Warren
Program/Department
Admissions, Traditional Students
States
Last name ending in M-S and Washington, D.C., Maryland, Virginia
Stephanie Stallings
Lead Admissions Counselor
p: 252.985.5561

North Carolina Counties: Bertie, Camden, Chowan, Currituck, Gates, Granville, Halifax, Hertford, Northampton, Pasquotank, Perquimans, Vance, Warren

States: ALL Prospective Students with last name ending in M-S and Washington, D.C., Maryland, Virginia

---
More Facts About Me!
What's your hometown?
Nashville, North Carolina
Why did you choose to work at NCWU?
After 4 years of being a student-athlete on the NCWU Women's Soccer team, I decided that I could not say goodbye just yet. I love getting to meet with students and families from all over the United States and helping give them the experience that NC Wesleyan gave me. I will never take for granted the friendships I made here, the experience I had as a student and an athlete, and the connections I formed with my professors.
What School(s) did you attend and degree(s) earned?
North Carolina Wesleyan University, Bachelor of Arts in Criminal Justice & Bachelor of Arts in Psychology (Summa Cum Laude), 2018
North Carolina Wesleyan University, Masters of Science in Criminal Justice (MSCJ), Class of 2020
What's your favorite eastern NC activity?
There are so many awesome things to do in eastern NC but some of my favorite activities are attending Carolina Hurricanes' hockey games, going to local coffee shops and thrift stores, and traveling to the Outer Banks on the North Carolina coast.
What's your Tip(s) for incoming students?
Your college experience is everything that you make it! Make those connections and get involved as much as you can. You never know what friendships you'll make and what lifelong memories you'll create.
What's your Tip(s) for applicants?
Even though NCWU has rolling admissions, we encourage you to submit your application once it becomes available and also never be afraid to ask for help or clarification at any point. We are here to help you throughout the entire process and make sure your transition from high school to college is as smooth as possible!
Another interesting fact about me.
As a member of the NCWU Women's Soccer team, I was able to travel to Italy during my senior year. While we were there, we were able to tour multiple parts of Italy and play in three different international matches.
Anything else that you think a prospective student would like to know about coming to NCWU?
The best way to help solidify a college choice is by getting on campus! We would love to have you schedule a campus visit and/or register for one of our open houses so that we can meet with you and help you discover all of the wonderful things NC Wesleyan University has to offer!